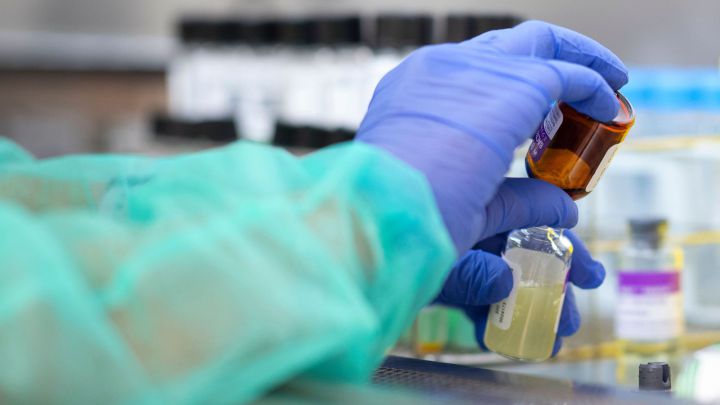 Covid-19 Omicron variant: live updates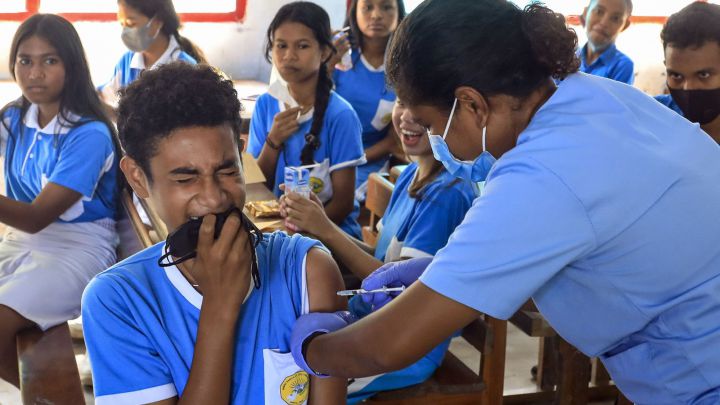 What countries have the highest and lowest covid-19 vaccination rates?
The Omicron variant is a stark warning of what could continue to happen if the global vaccine rollout does not speed up and become more equal.  Early this year as the first doses of covid-19 vaccines began to be administered, the World Health Organization (WHO) set a target of having at least forty percent of the population in every country vaccinated by the end of the year.
This target has been revised after it became clear that many low-income countries would not be able to reach this marker. Across wealthier countries the average percent of the population vaccinated stands at around sixty-five percent, in low-income countries, that figure is closer to two percent.
For more information on the vaccine rollout, see our full coverage.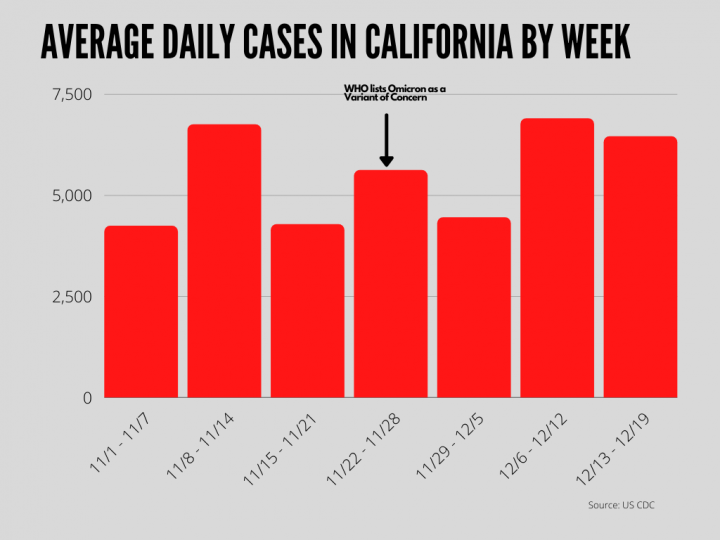 Is Omicron leading to an increase in covid cases in California?
While some states begin to see rapid increases in covid cases, the Golden State's are also trending upward. The rate at which the increase is occurring is not so severe compared to other states. 
When comparing the number of cases confirmed between 1 – 19 November and 1 -19 December, the state has seen a nine percent increase. As a percent, the case increase is relatively low compared to others. California is the most populous state but ranked sixth in the number of cases confirmed in December so far. More cases were reported in Michigan (119,188), Ilinois (128,062), New York (141,861), Pennsylvania (145,733), and Ohio (147,979). 
Reports of first Omicron death in Texas are false
Various outlets and public officials have said that the first death from the Omicron variant occurred in Texas. However, Harris Country health officials are now saying that the claim is false. CNN spoke with the reporter that confirmed the story. Take a look. 

Coronavirus omicron: which countries can I travel to without restrictions?
There are only four countries Americans can visit that do not require proof of vaccination or a negative covid-19 test to enter the country: Costa Rica, the Dominican Republic, El Salvador, and Mexico. 
The number of countries where this type of travel is available should indicate the dangers associated, especially as the Omicron variant leads to a rapid increase in covid cases in the US. 
Unvaccinated travelers should plan an international, or domestic trip, with extreme caution because there is a very real chance you could become infected with a novel virus in a country where you do not speak the language, and where the health care systems are fragile and at times, difficult to navigate (much like our own). 
Read more on the countries with the fewest restrictions and how to plan a safe international trip. 
How quickly are Omicron cases increasing?
From November 1st through the 19th, the United States confirmed 1.5 million covid-10 cases. From December 1st through the 19th, that number rose to 2,064,131 –an increase of over 34 percent. 
Which states saw the greatest increase in new cases?
1. Connecticut (Nov. 1-19: 9503, Dec 1-19: 32,781; +245%)
2. New Jersey (28429, 89824; +216%)
3. Washington DC (1558, 4172; +168%)
4. Flordia (28644, 72591; 153%)
5. Rhode Island (6447, 15947; +147%). 
Data: US CDC
Will companies postpone planned returns to the office in light of Omicron?
Yes. Many companies including Wells Fargo have announced that they will postpone worker entry to the workplace until the situation over Omicron becomes more clear. Many workers who have been able to do their jobs from home have pressured companies to make a WFH policy permanent as they have seen that it allows them greater flexibility in their jobs. 
In August, September, and October, over four million workers quit their jobs. Workers with an annual salary over $50,000 who were planning or had left their jobs reported wanting greater work/life flexibility. 
Has Omicron impacted consumer confidence?
While President Biden told the nation that they should not expect lockdowns like those seen in March 2020, some business owners are still worried about the impact the new variant might have on their revenue. Though vaccinated people do are not at as high of a threat from severe illness, they may still forgo dining or in-store shopping to prevent exposure. Should demand fall, and no federal relief be offered, many small businesses may be forced to shut their doors permanently.
However, with regards to sporting events, many fans still feel comfortable attending an event. Attendance at NHL and NBA games is down more than five percent compared to 2019-2020 levels. Additionally, less than half of fans feel comforatable attening an event in person, but these numbers remain unchanged by Omicron.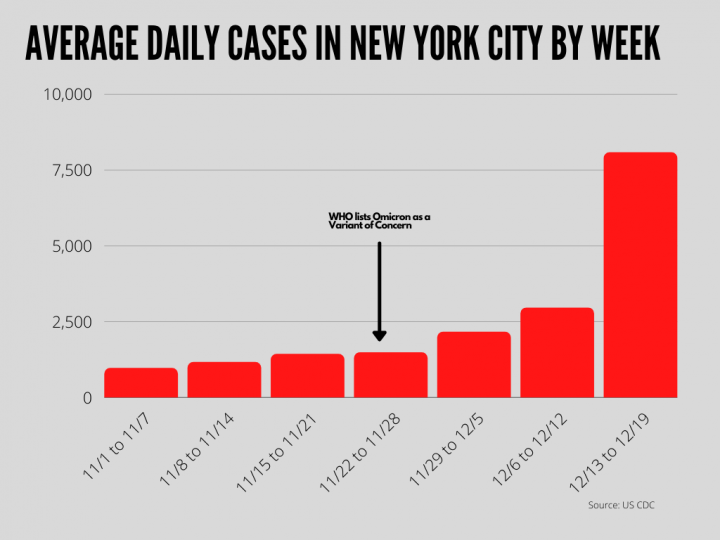 How quickly have cases increased in New York City?
On 19 December, New York City reported 27,166 new covid-19 cases. This number is artificially high as the two days before, no new cases were reported. However, on 16 December, 10,599 cases were confirmed. 
On Tuesday, President Biden announced that this week, the federal government would assit the city in increasing its testing capacity. Many New Yorkers have been waiting in line for hours to get tested, as the virus spreads rapidly. 
What has President Biden said about the Omicron variant of covid-19?
President Biden addressed the nation on Tuesday to provide a warning and update on the pandemic, specifically the ways the Omicron variant has changed the landscape. More than 150,000 new cases are being confirmed each day and over 68,000 people are hospitalized, and Biden said that Americans should expect these figures to rise to startling levels in the new few weeks. 
For vaccinated families hoping to get together for the holidays, Biden said that they should feel free to do so. However, the warnings to the unvaccianted were stark.
Read more on what the federal government will do to support struggling hospitals and enhance testing. 
New mask mandates implemented around Louisiana
As Omicron cases pick up across the country, some cities and counties are reimplementing mask mandates. Some workers in Louisiana are now required to put their masks back on to slow the spread. This afternoon, Governor John Bel Edwards said that when some state workers get back from their holiday vacation, they may need to wear a mask as the new order allows all state agencies to implement a mandate.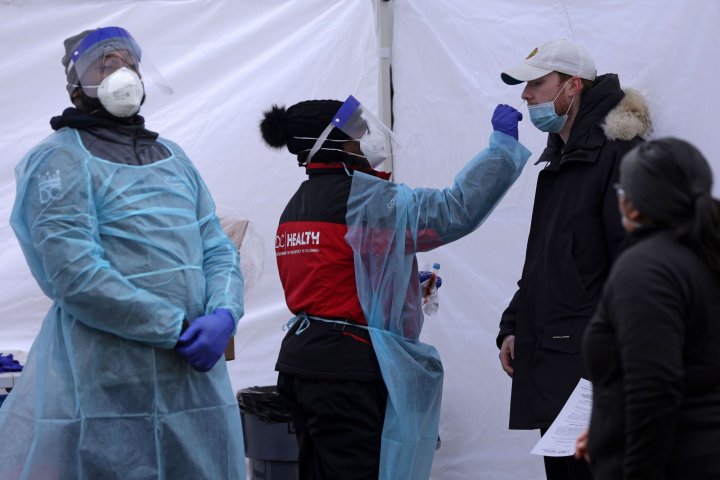 Can a PCR tell me which variant of covid-19 I have?
PCR tests have become common place since the onset of the covid-19 pandemic, allowing people to quickly find out if they've been infected or not. There have been many variations of the novel coronavirus that has upended lives, but the thirteenth named variant Omicron is causing special concern.
The US was already in the throws of a new surge driven by the Delta variant when Omicron came onto the scene. The even more contagious strain of covid-19 is quickly replacing Delta as the dominant variant. So far, the PCR tests have been able to detect all the iterations of covid-19, but can they tell you which one you have?
One America notes inequities in global vaccine distribution
Wealthy countries are administering eight times as many boosters compared to the number of first dose shots being administered by lower-income countries. Public health experts and medical professionals have called on the World Trade Organization to lift vaccine patents to increase production and speed up the global vaccination rollout. However, it seems that negociations have stalled in recent weeks. 
Axios reports that there was more media interest in the Delat variant when it first emerged than Omicron. After Biden's speech today, the winds could change on the current trends. 
Israel bans travel to the United States
Israel has announced that they will ban travel to the United States after passengers arriving from Miami tested positive for the Omicron variant. The country is hoping that by implementing a travel ban they will have more time to get control of the latest outbreak. Lawmakers have closed to the border until 29 December. 
WIth Omicron spreading rapidly, President Biden is considering extending student loan forbearance which is set to end in February.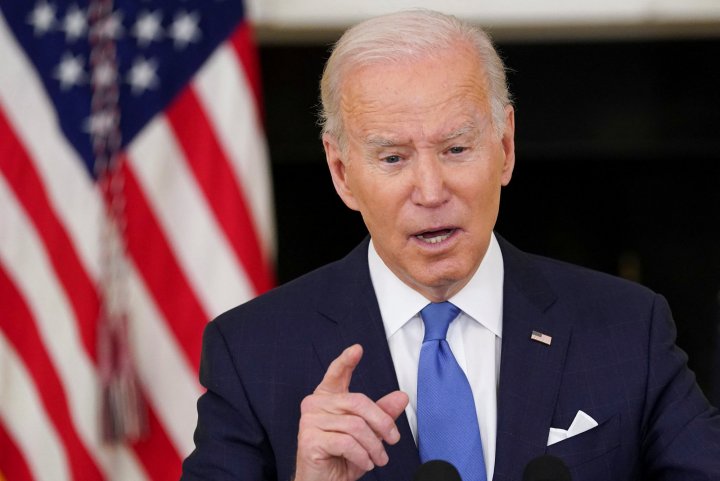 Biden tells unvaccinated Americans to be 'concerned' about Omicron variant
Joe Biden on Tuesday warned unvaccinated Americans they are putting themselves and loved ones at risk amid the rapid spread of the Omicron variant of the covid-19 virus sweeping the nation.
"If you're not fully vaccinated, you have good reason to be concerned," Biden said in a White House speech where he unveiled new plans to buy 500 million rapid covid-19 tests to be distributed for free to Americans who request them in January.
Biden noted vaccinated people who get covid-19 may get ill but they are protected from severe illness and death and they should feel comfortable celebrating Christmas and the holidays as they had planned.
Biden also appealed to the unvaccinated by saying: "Your choice can be the difference between life and death."
The 62% of the overall US population that have been fully vaccinated represent one of the lowest rates among wealthy countries, and deaths per capita are concentrated in US states with low vaccination rates, many of them in the South.
Photo: REUTERS/Kevin Lamarque
And that concludes Joe Biden's press conference. We'll provide a run-down of the key points the president discussed shortly.
US considering reversing travel ban
The president confirms that the US government is considering reversing the travel ban imposed on several countries due to omicron.
"Test to stay guidelines" issued for schools
The CDC has initiated test to stay guidelines for schools, meaning that if a child tests positive, the classrooms can remain operational with testing of other students.
PPE stockpiled and troops to be deployed
One thousand US miltary medical personnel are to be deployed in US hospitals, the president says. Additional spillover capacity is to be made available near hospitals with transfer transport to be rolled out to move patients if needed.
Federal testing sites are to be set up, the first one in New York City this week, to increase testing capacity, in addition to the 500 million at-home tests to be made available in January, the president says. 
"The only responsible thing to do"
Biden again stresses the need for everyone to get vaccinated, pointing out that hospital bed are needed for more than just covid patients. Biden adds that cable television and social media have spread "dangerous misinformation" about the vaccine.
The US is to roll out pop-up centers to increase booster jabs and testing capabilities, the president adds, urging parents to get their children vaccinated as soon as possible.
Biden: "This is not March 2020"
Biden notes three big differences between now and March 2020 – 200 million Americans are vaccinated, the president also says that the US is ready to deal with the surge, unlike in 2020. Hospitals are well stocked with ventilators, schools do not need to close over individual cases and lockdowns are not necessary.
The president has said it is safe for Americans to celebrate Christmas with thier families, as long as they are all vaccinated, and has urged people to get booster shots and wear masks.
President Biden is now ready to deliver his address.
Psaki briefs press on testing kits
White House press secretary Jen Psaki is speaking to the press now and laying out the Biden administration's plans to make 500 million at-home tests available for US citizens from January, in addition to to testing sites in the worst-hit areas, including New York.
The president is due to speak at 2.30pm ET to address the omicron situation in the US.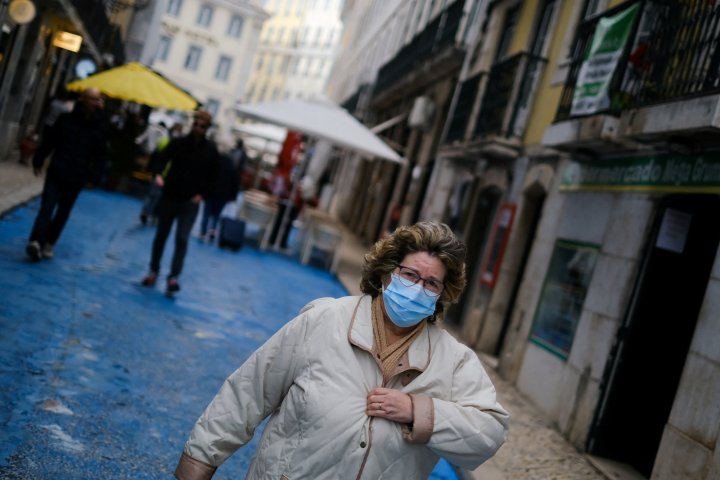 Portugal to shut bars and clubs
Portugal on Tuesday ordered nightclubs and bars to shut doors and told people to work from home from 26 December to at least 9 January to control the spread of covid over the holiday period.
Prime Minister Antonio Costa also announced that a negative coronavirus test would be required to stay at Portuguese hotels and said authorities would limit outdoor gatherings to 10 people per group on New Year's Eve.
Photo: REUTERS/Pedro Nunes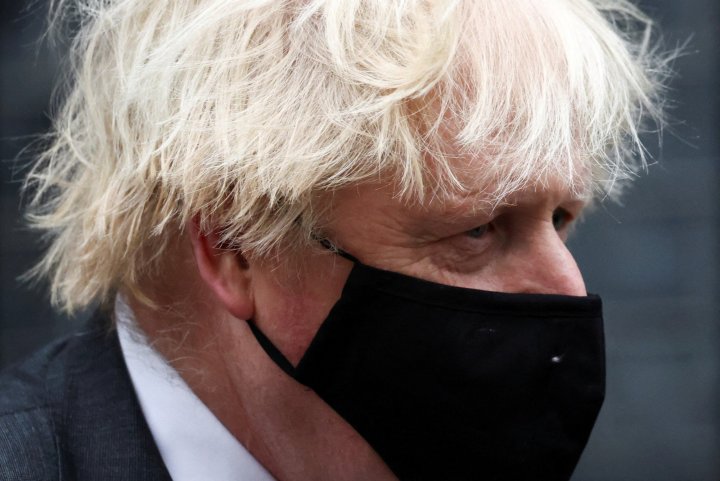 UK's Johnson rules out new curbs before Christmas
British Prime Minister Boris Johnson said on Tuesday that he would not be introducing new covid-19 restrictions in England before Christmas, but the situation remained extremely difficult and the government might need to act afterwards.
"We don't think today that there is enough evidence to justify any tougher measures before Christmas," he said in a video posted on social media.
"We can't rule out any further measures after Christmas," he added. "We continue to monitor Omicron very closely and if the situation deteriorates we will be ready to take action if needed."
Johnson said that while people could go ahead with their Christmas plans, he urged them to be cautious and follow advice such as keeping windows open and taking a test before visiting elderly or vulnerable relatives.
Photo: REUTERS/Henry Nicholls
UK reports 15,000 new omicron cases
The UK government announced on Tuesday that fresh restrictions are unlikely before Christmas, despite overall case numbers hovering around the 90,000-mark for the past few days. In terms of omicron, 15,000 new cases were reported on Tuesday, taking the total to just over 60,000.
Bill Gates: "We could be entering worst of pandemic"
Microsoft founder Bill Gates has issued a warning that omicron could represent the most serious phase of the pandemic to date. "Omicron will hit home for all of us," the philanthropist said on social media.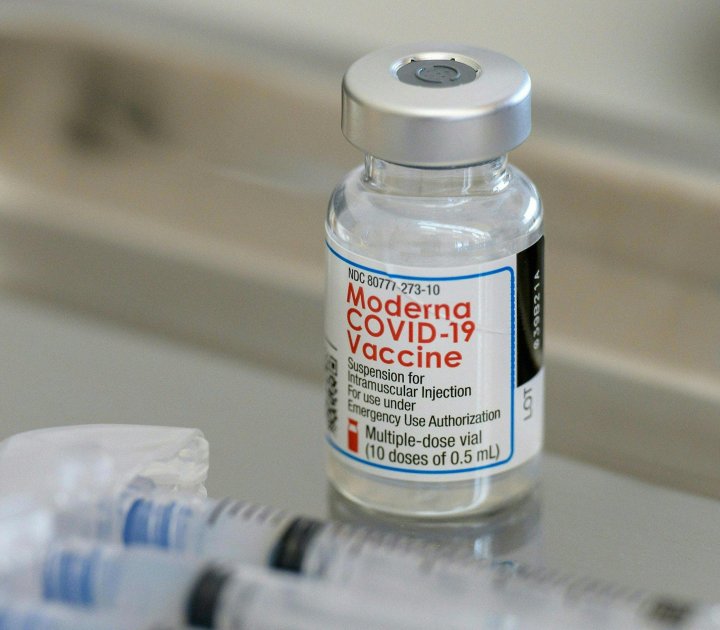 Moderna Covid booster produces strong antibody response against Omicron
Moderna's Covid-19 booster shot elicits a strong antibody response against the Omicron coronavirus variant, appearing to increase antibody levels even further than a third dose of the BioNTech/Pfizer vaccine.
Paxlovid anti-viral pill can cut risk of hospitalization by 89% for the most high-risk patients
More on Paxlovid here…the pill offers a potent inhibitor of the main protease of the virus, called Mpro.
Nadal's coach also tests positive
Spanish tennis star Rafa Nadal confirmed on Monday that he tested positive for covid following his return from Abu Dhabi and today his coach Carlos Moya has also confirmed that he too, is positive with covid.
'My Christmas wish is for the pandemic to come to an end"
Dr. Fauci wishes that people would put their political ideologies to one side and that the pandemic would come to an end
Israel bans flights to and from the US
Israel announced Tuesday that it has added the United States and several other countries to its red list of some 50 states to which travel is prohibited, in order to combat the spread of the Omicron variant.
A parliamentary committee approved the Health Ministry's proposal to ban Israelis from traveling to the U.S. but also to Canada, among other countries, committee spokeswoman Ronit Gal said in a statement.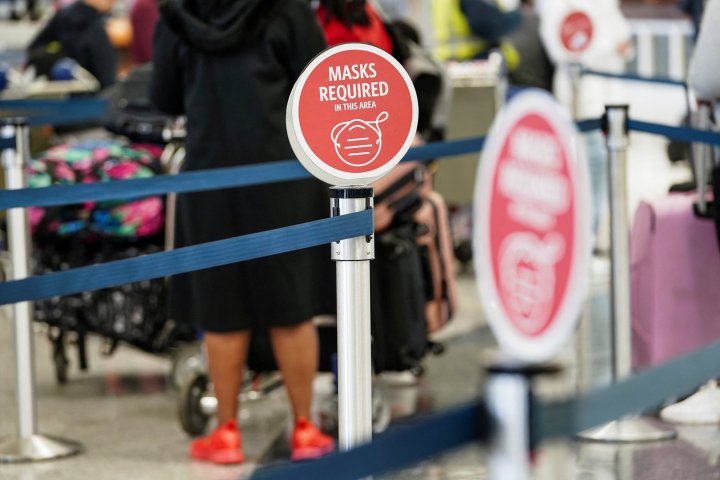 US travelers stay closer to home as Omicron looms
Airlines have in recent weeks reported some uptick in cancellations. Still, millions of Americans are expected to hit the highways and board flights to celebrate with family and friends over the holidays.
Delta Air Lines Inc said last week that Omicron had slowed international bookings as many countries imposed new travel restrictions.
However, the airline's chief executive officer, Ed Bastian, told CNBC that "Omicron (is) not going to impact our holiday bookings."
United Airlines is flying its busiest schedule this month since the start of the pandemic, with more than 4,000 flights per day on average during the year-end holidays. The airline said it added more than 200 daily domestic flights to meet holiday travel demand.
Similarly, Southwest Airlines said on Monday the airline is encouraged by holiday demand trends. American Airlines incoming Chief Executive Robert Isom told Reuters the airline's domestic business remained strong but the new travel restrictions had dampened demand in some international markets.
Nationally, covid cases rose 9% in the past week but are up 57% since the start of December, according to a Reuters tally. The spike in U.S. covid-19 cases is causing some worry about  the future of travel.
Texas' Harris County records its first Omicron death
Texas' Harris County on Monday reported its first death related to the Omicron covid-19 variant, a man who was unvaccinated, the county health department said. It is believed to be the first known recorded Omicron death in the United States, ABC News reported. The U.S. Centers for Disease Control and Prevention (CDC) did not immediately respond to a request for comment on the issue.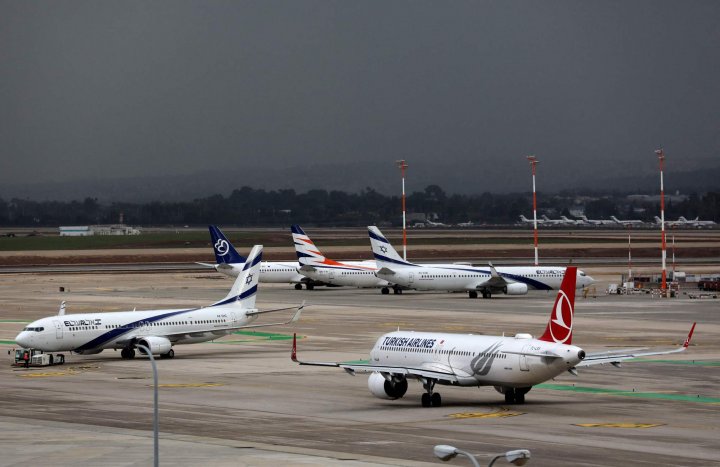 US recommends against travel to Spain
The CDC, which provides recommendations on how the pandemic should be managed, has advised the public against travel to Spain due to the recent spike in coronavirus cases. Spain they warn is now in Level 4, which is the highest travel risk category.
London NYE event cancelled
The Mayor of London, Sadiq Khan has confirmed via Twitter that the annual New Year's Eve event in Trafalgar Square will not go ahead given the rising covid cases in the capital.
Boston introduces 'B Together' covid pass
As of 15 January, 2022, to address rising covid-19 cases and encourage vaccination, individuals will be required to show proof of vaccination against covid-19 in order to enter certain indoor spaces in Boston via the 'B Together' covid pass.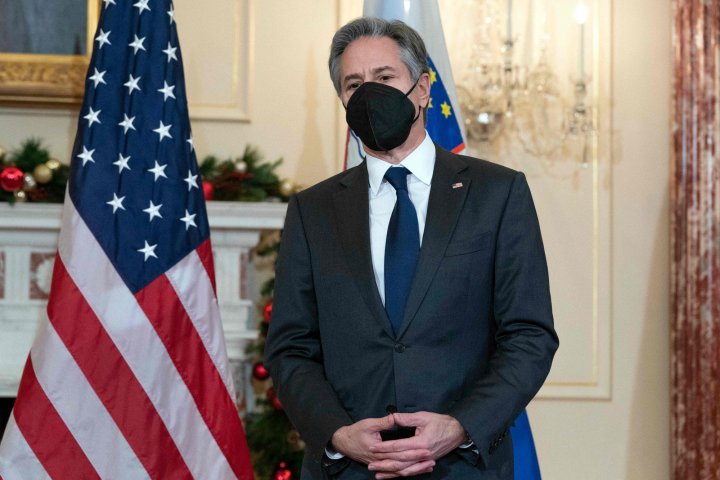 US gives seven global aid groups $580 mln for COVID research
The United States is providing the World Health Organization, the United Nations Children's Fund and five other global aid groups an additional $580 million to fight covid-19, U.S. Secretary of State Antony Blinken said on Tuesday.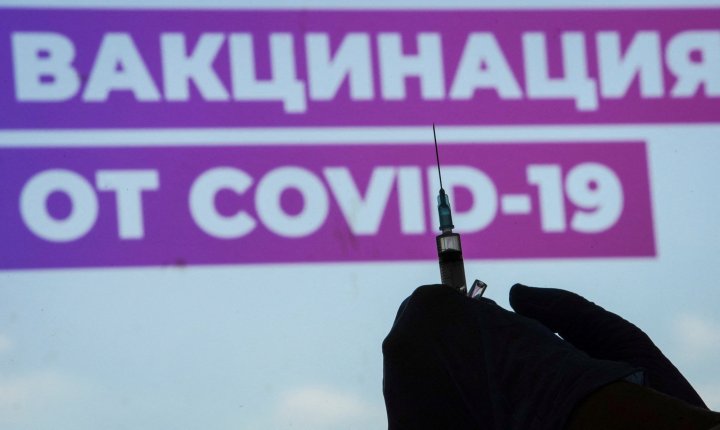 Sputnik V vaccine due to submit data to WHO by end December
The Russian maker of the covid-19 Sputnik V vaccine is due to submit its latest clinical data by the end of December, with manufacturing site inspections expected to follow in February, a World Health Organization (WHO) official said on Monday.
Moscow rushed to approve the shot for domestic use last year and it has been exported to countries around the world, but it has still not been certified by either the WHO or the European Medicines Agency, the EU's drug regulator.
Rogerio Gaspar, WHO regulation director, gave the new timelines for the vaccine made by the Gamaleya Institute, which is seeking WHO emergency use listing, during a WHO briefing for journalists in Geneva.
It was hoped that Gamaleya would complete submission of its data and application in two parts, at the end of December and by the end of January, he said.
"We are starting already for the planning exercise for the forthcoming GMP (good manufacturing practices) inspections that will be necessary looking at the new data to be submitted," Gaspar said, referring to on-site inspections for quality control.
"So our planning right now, provided that all information is on board and with the technical information being answered by the end of December, we would be able to perform GMP (good manufacturing practices) inspections locally on Sputnik in February," he said.
Queen Elizabeth to spend Christmas at Windsor amid Omicron outbreak
Britain's Queen Elizabeth will celebrate Christmas at Windsor instead of her usual choice of Sandringham, a palace source said, as the Omicron variant continues to spread rapidly.
"The decision was a personal one after careful consideration and reflects a precautionary approach," the source said. "There will be family visiting Windsor over the Christmas period and all appropriate guidelines will be followed."
Canada's Quebec shuts bars, gyms, casinos to fight spread of Omicron
Canada's second most populous province of Quebec ordered bars, gyms and casinos shut on Monday and directed people to work only from home to fight the rapid spread of the Omicron variant of the coronavirus.
Health minister Christian Dube said the province had a record 4,500 new cases of the coronavirus a day and predicted worse was yet to come.
He urged Quebecers to cut down their personal contacts with the approach of Christmas and New Year's Day. The new measures were due to take effect at 5 p.m. local time, on Monday.
"The situation is critical … right now we are waging a war against the virus," Dube told a virtual briefing, saying the healthcare system was fragile.
Some better news….cases in South Africa have peaked and are now on the decline
This thread from vaccine researcher is interesting and does offer a ray of sunlight in what is generally a gloomy picture currently relating to the Omicron variant.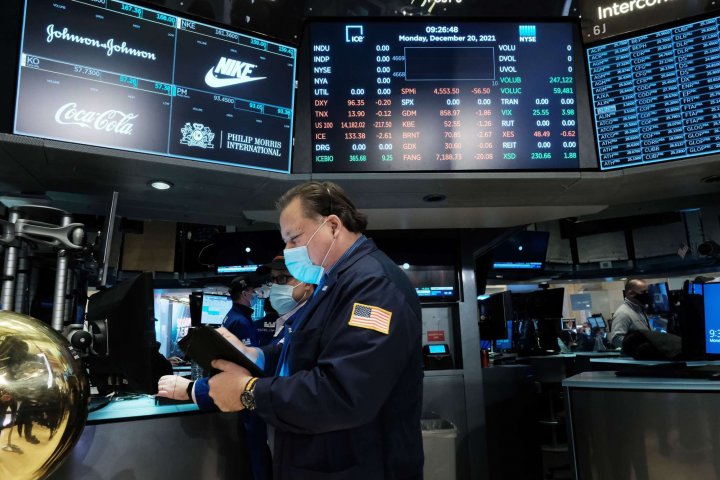 Omicron impacts global markets
The rapid spread of the variant has ignited fears that more countries may impose economically disruptive restrictions, impacting markets.
U.S. stocks ended trading on Monday down by more than 1%, pressured lower by surging Omicron cases, while oil investors feared that new restrictions in Europe would weigh on fuel demand, sending crude prices lower.
Asian shares and oil prices rose in early trade on Tuesday, though the Australian and New Zealand dollars fell.
The World Economic Forum on Monday postponed its annual meeting in Davos due to the spread of Omicron, putting off the event scheduled for January until mid-2022.
More than 274 million people have been reported to be infected by the coronavirus globally since the pandemic began and more than 5.65 million people have died.
Second tier English soccer side lead the way for booster jabs
As of the end of November, over 30% of players in England's second soccer tier (The Championship) were un-vaccinated and with games being called off due to rising cases, Bristol City are one of the sides leading the drive for players to get the vaccine and a booster.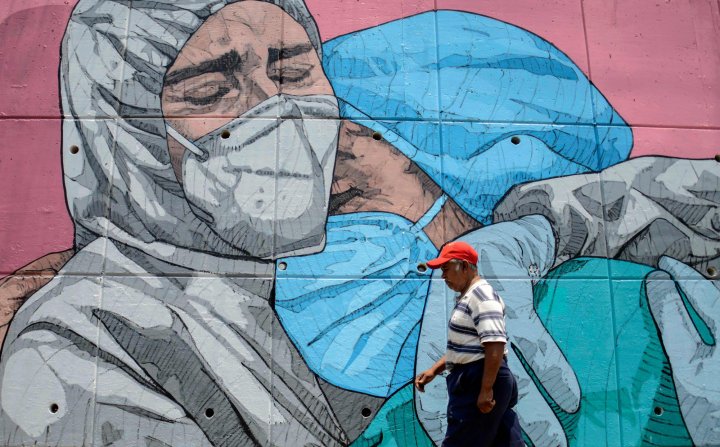 Omicron variant claims first US death
The Omicron variant has become dominant in the United States with lightning speed, and claimed the life on Monday of an unvaccinated man in Texas, officials said.
Lines for covid-19 tests wrapped around the block in New York, Washington and other U.S. cities as people clamoured to find out if they were infected before celebrating the holidays with family.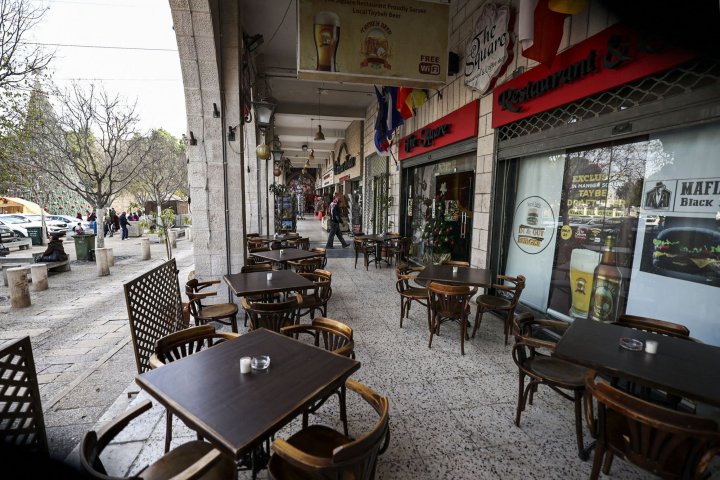 Omicron's global spread prompts renewed lockdowns, delayed reopenings
Many nations are on high alert just days ahead of Christmas and New Year celebrations, as the latest health crisis also takes a toll on financial markets, which fear the impact on the global economic recovery.
Omicron infections are multiplying rapidly across Europe, the United States and Asia.
* NZ border reopening pushed to late February
* U.S. reports first death linked to Omicron
* Restrictions reimposed in South Korea, Germany, Ireland
* Australian PM pleas for an end to lockdowns
* Markets hit by economic growth worries
75% of new covid cases in the US are Omicron variant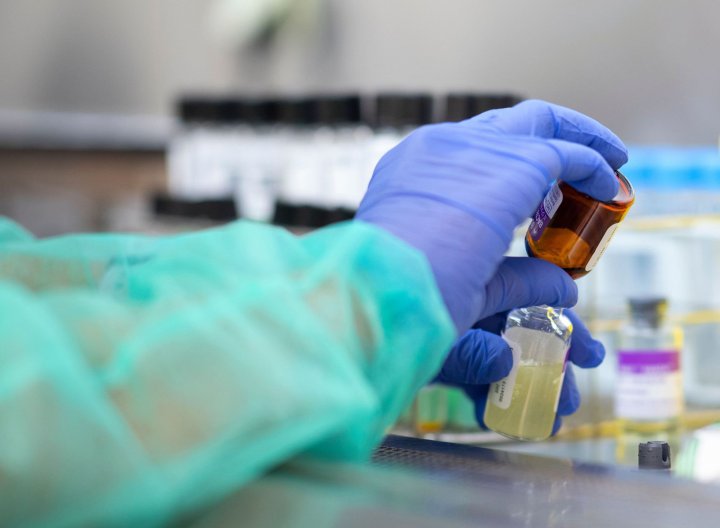 'Testing at higher level in US than a year ago'
"Testing in this country is a lot better than it was, but there's more to do and we're taking action now," a government official said.
The free tests are in addition to a plan to have health insurers provide free tests for Americans with coverage that is also expected to begin in January.
Biden will note that the Omicron variant is so contagious that it will infect vaccinated Americans but that they will be far less likely to get seriously sick.
So-called breakthrough infections are rising among the 61% of the country's fully vaccinated population, including the 30% who have gotten booster shots.
Still, Biden will tell Americans that those who are vaccinated and follow guidance around using masks, especially while traveling, should feel comfortable celebrating the holidays as planned.
New covid-19 cases rose 9% in the United States in the past week but are up 57% since the start of December, according to a Reuters tally.

Reuters As Omicron surges, Biden to expand testing and warns unvaccinated
The Biden administration will open federal covid-19 testing sites in New York City this week and buy 500 million at-home rapid tests that Americans can order online for free starting in January as it tries to tackle the Omicron variant sweeping the country.
Striking a more dire tone about the risks of remaining unvaccinated, President Joe Biden will lay out the initiatives on Tuesday in a speech that aims to persuade Americans to protect themselves from the fast-spreading variant, a senior administration official said.
The measures include activating some 1,000 military medical personnel to support hospitals.
"We will also note that if you are unvaccinated, you are at high risk of getting sick. This variant is highly transmissible and the unvaccinated are eight times more likely to be hospitalized and 14 times more likely to die from covid," the official said.
With the holiday travel season already begun, new covid-19 cases are surging in the United States, prompting local and federal officials to again confront just how far to go to combat the virus. Federal officials said that Omicron now accounts for 73% of all new cases, up from less than 1% at the beginning of the month.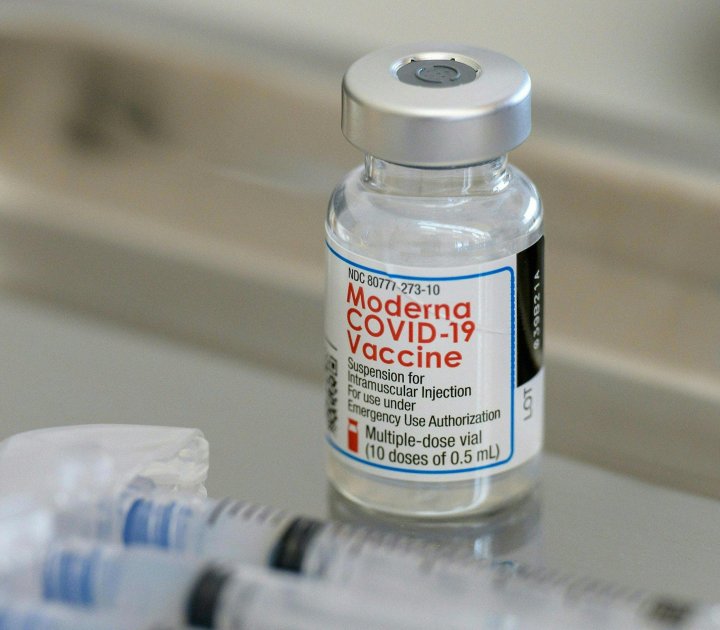 Moderna could be ready to develop Omicron booster in weeks – CEO
Covid vaccine maker Moderna does not expect any problems in developing a booster shot to protect against the Omicron variant of the coronavirus and could begin work in a few weeks, Chief Executive Stephane Bancel said in an interview.
Moderna hopes to start clinical trials early next year on a vaccine to protect against the fast-spreading Omicron variant but for now is focussing on a booster dose of its current mRNA-1273 vaccine.
"It only needs minor adjustments for Omicron. I don't expect any problems," Bancel said in an interview with the Swiss newspaper TagesAnzeiger published on Tuesday.
The company was now awaiting important information on the variant to begin development. "That will take another week or two," Bancel said. "It will take a few months before we can produce 500 million doses after (regulatory) approval. But our capacities are much higher today than a year ago," he said.
If approval bodies such as the U.S. Food and Drug Administration and Switzerland's Swissmedic require further studies, that would add at least three months. "Some authorities want a study, others are still undecided. In my opinion, it depends very much on how severely the disease progresses," he said.
Omicron speed of transmission concerns medic
Involved in the Resolve to Save Lives project, 30 year medic Dr. Tom Frieden is startled by the speed of Omicron transmission.
Biden reinforces the importance of vaccination
Ahead of his address later on Tuesday, the US President took to Twitter for some key pointers as cases continue to grow spearheaded by the Omicron variant.
Good morning and welcome to AS USA's daily live blog for Tuesday 21 December 2021, in which we'll be bringing you the latest news on the impact of the Omicron covid-19 variant and its knock-on effect on daily life. President Biden is due to address the nation on the situation and we'll look at the latest restrictions being imposed in the US and other parts of the world as nations look to confront the havoc being created by the latest variant.
We'll also provide you with the latest information on vaccines and booster jabs as a means to counter the impact of infection along with the latest news from South Africa where the variant was first discovered, with testing and understanding of Omicron at a much advanced stages than other parts of the planet.
.