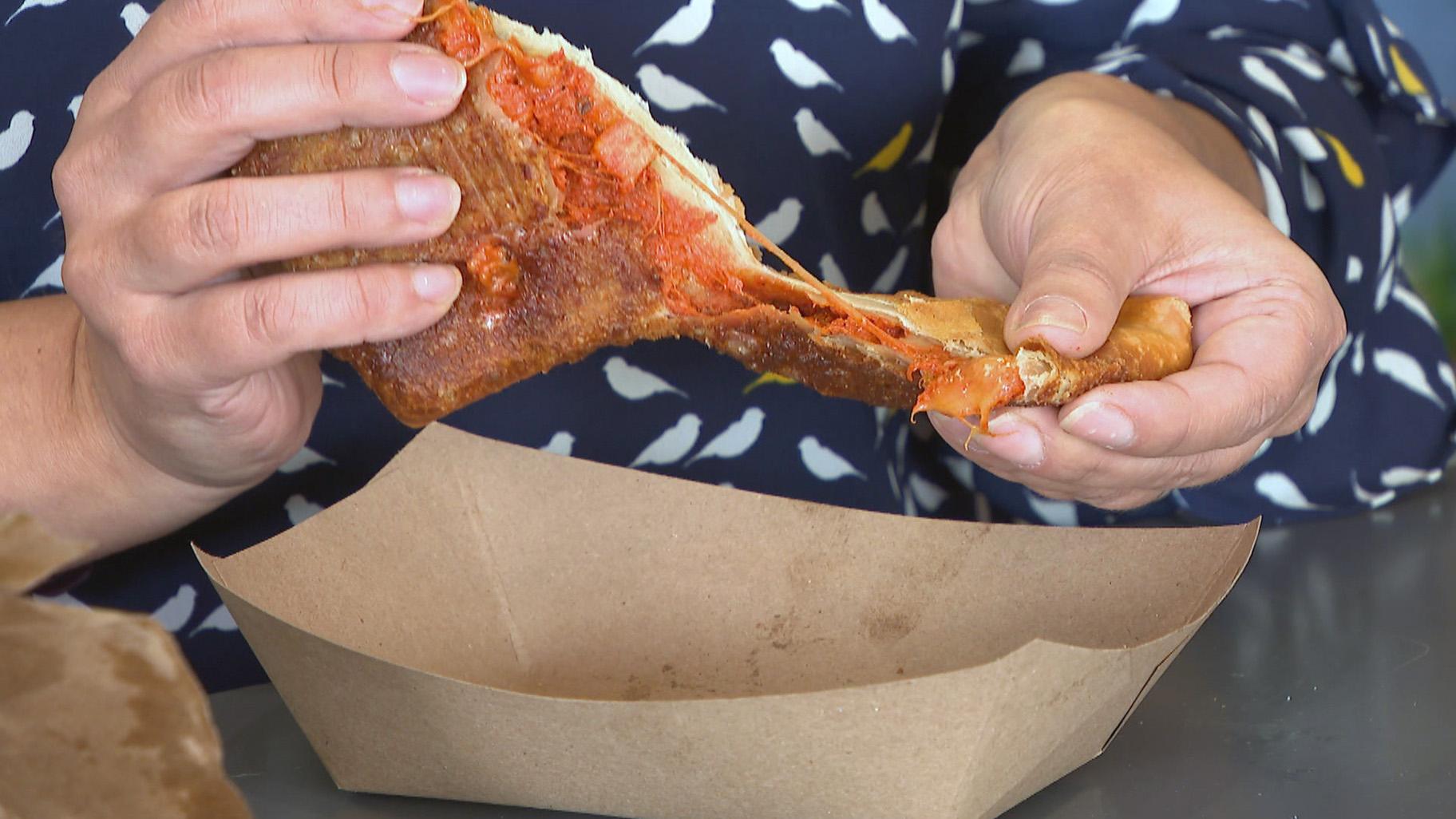 Once they were satisfied with the filling's flavor and folding process, Iltaco added the pizza puff to its lineup in 1976 and it took off from there. (WTTW News)
Chicago's favorite rectilinear fried treat, the pizza puff, has been on the menu at Byron's Hot Dogs for more than 40 years.
"It certainly doesn't take rocket science to cook them," says Michael Payne, president of the venerable Byron's Hot Dogs. "You take them out of the package, put them in the deep fryer and you wait till it's done and you're done."
Byron's president Mike Payne says the humble pastry pocket's staying power is proof that it belongs in the pantheon of great Chicago foods.
"Chicago is — there's no other city that I know of that's better at doing quick service items, and certainly pizza puffs are a big part of that."
Since its introduction in 1976, millions of pizza puffs have been pressed, filled, hand-folded, and packaged for commercial and retail sale in Iltaco Foods' West Town facility.
Iltaco executive vice president of sales and marketing Andrew Shabaz describes the process of making the pizza puff.
"It's made from scratch every single day, whether it be the filling or the dough that we make every day and then we hand fold them," said Andrew. "[Our employees are] really good at what they do and they really have a passion and appreciate it."
One could be forgiven for thinking a company named Iltaco makes, well, tacos. But it is actually a shortened version of a name that reveals the company's history – Illinois Tamale Company.
In 1927, Elisha Shabaz bought a company making Chicago-style rolled tamales for pushcart vendors. When Warren Shabaz took the company over from his grandfather in 1964, he condensed the name to Iltaco. By the '70s, Warren Shabaz says the hot dog stands his company supplied with tamales were ready for something new.
"My brother and I grew up in an all-Italian neighborhood and panzerottis and calzones were huge back then. And I had a buddy called Art Velasquez, he owned Azteca corn products. And I said, 'Listen Art, let me take some of your tortillas.'"
Warren and his brother Edward used the tortilla dough as the wrapper for a spicy pizza-flavored filling. He says making a pocket that could take a plunge in the deep fryer without splitting open took some trial and error.
"My brother said, 'let's try, we got nothing to lose. Son of a gun, when we put it in the French fryer it held together and it was amazing," recalled Warren. "We kept working on the formula, though. You've got to have the right seasonings because it's got to take off right away."
Once they were satisfied with the filling's flavor and folding process, Iltaco added the pizza puff to its lineup in 1976 and Warren says it did indeed take off.
"It ran through this city like you couldn't believe, I mean from the south side to the north side, east side to the west side."
Over the years, they added different flavors to the puff line. And as the company grew, the family grew too, and Warren folded his children Alisha, Andrew and Adam into the family business.
"I used to force them to come down here and work in the summer," Warren Shabaz said.
The siblings say their experiences working in the plant taught them to appreciate the hard work and skill it takes to create their products.
"Myself, I can't fold the pizza puff. It goes by too fast," said Andrew Shabaz, who runs national sales. "The worst part about doing the taco puff was having to peel all the onions by far. I mean eyes just running."
Over the past 20 years, the siblings have left other jobs to become the fourth generation of their family to run Iltaco.
"We've grown substantially, and it's just been so fun to do it with two of my best friends basically and enjoy every day doing it. So it's been wonderful," said executive vice president of sales and operations Alisha Shabaz.
"I'm extremely proud of the three kids," Warren said. "Sometimes I almost can get to tears because they're here. I know they're going to do a good job. I have no doubt in my mind."
Up next for the Shabazes and Iltaco – a move from the West Town plant they've outgrown to a new plant in north side Brynford Park. The new location will give the company even more room to grow, and they say their hope is the move will allow a fifth round of Shabazes to take over one day.
"It's extremely important that we do stay with it as a family company and it would be great to see the next generation be a part of it if they want to," Adam said.
"I feel privileged. We feel privileged. I can speak for my brothers. It's a privilege," said Alisha.
Andrew adds, "So thank you for eating those puffs!"
Note: this story will be updated with video.
---