Remember the monocle that OPPO revealed during last year's OPPO INNO Day? The OPPO Air Glass is quite an interesting product, as it's a smart glass that's designed for 'assisted reality (aR)'. Yesterday, OPPO officially launched the device in China. So, let's take a look!
As previously revealed, the OPPO Air Glass is a smart glass with a monocle design. It has a thick main body that can be attached to the right side of your glasses, and a small glass lens where info can be displayed. You can also get the device in black or white colours. According to OPPO, the Air Glass' main characteristics are its beauty, lightweight body, universal compatibility, and utility.
Interestingly, OPPO is providing the option to get silver or black frames for people who don't wear glasses. In terms of specs, the OPPO Air Glass uses the Snapdragon Wear 4100. Currently, the device lets users connect to their smartphones to receive notifications, directions from navigational apps, or display texts so you can make presentations.
How does the OPPO Air Glass work? The info is processed by the chipset first before it is sent to a micro-LED display. Next, the visual on the display is projected to the less by a micro projector to the lens. Pretty cool, right? OPPO has confirmed that this device will be officially on sale starting 3 March 2022 for 4999 yuan (~RM3323).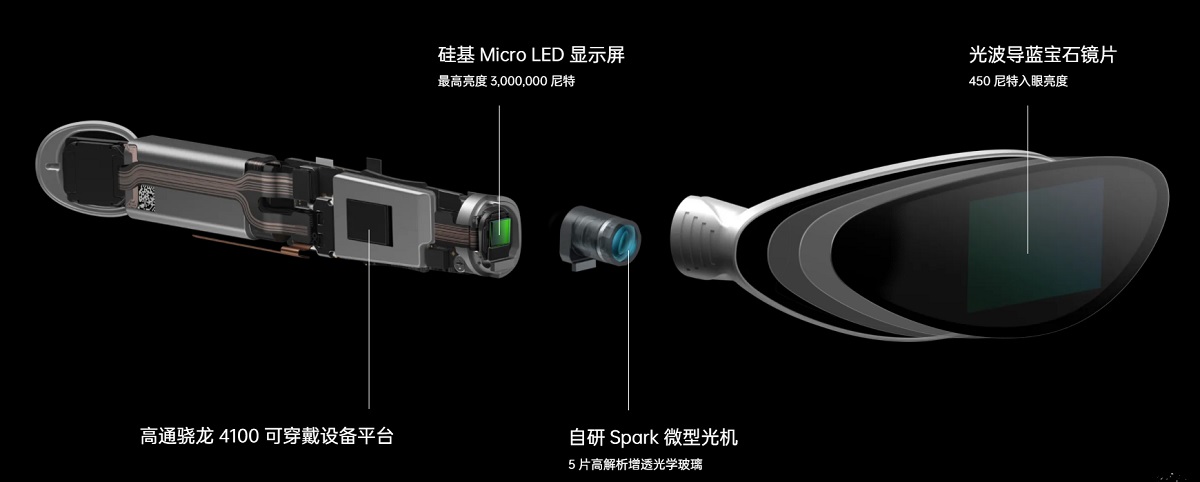 So, is the OPPO Air Glass something you'd be interested in? Let us know in the comments, and stay tuned to TechNave for more news about it.