1 min ago
German chancellor: We feel "obliged to do everything to give diplomacy a chance and end the war" in Ukraine
From CNN's Inke Kappeler and Pierre Meilhan
German Chancellor Olaf Scholz said Thursday German feels "obliged to do everything to give diplomacy a chance and end the war" in Ukraine.
Scholz, whose comments followed Ukraine's President Volodymyr Zelensky's address to the German parliament, said that he was "deeply" touched by what Zelensky said. 
Echoing similar remarks by western leaders, the German leader also stressed that the conflict is "Putin's war" and that the Russian president "bears the sole responsibility." 
Scholz said that the aid for Ukraine shall contribute to make "the resilience of the Ukrainians as strong as possible" and that "the international community found precise means to heavily damage Russia, so that this war already will have dramatic effects on Russia." 
The German leader also said his country is making long-term plans for Ukrainian refugees and recognized the that it is "a huge challenge to take in Ukrainians." Germany wants to find a solution instead of discussing financing for weeks and months, said Scholz, while stressing that "we want to do it well."
Further developments of the war will determine how to integrate Ukrainians in Germany Scholz added. "We may not repeat the mistake that this is only temporary. We must plan on integration into kindergartens, schools and job market," the chancellor emphasized. "If people will go back, then there will have been a bridge and friendships created between Ukraine and Germany."
12 min ago
About 30,000 people have fled besieged city of Mariupol since invasion began, city council says
From CNN's Josh Pennington
About 30,000 civilians have now left the southeastern city of Mariupol en route to Zaporizhzhia since Russia's invasion began, according to a post on the Telegram channel of Mariupol city council.
It says the current situation in Mariupol is "critical" with a Russian blockade now into its sixteenth day.
More than 350,000 residents of Mariupol are continuing to hide in shelters and basements to escape the "continuous shelling by Russian occupation forces," with an average of 50 to 200 air strikes hitting the city each day causing enormous destruction, according to the city council, which also estimated that about "80% of the city's housing structures are destroyed and 30% irreparably lost."
Despite coming under continuous shelling, "dismantling of debris and rescue" is continuing as much as possible at the site of the Drama Theater and the Neptune Pool Building which was bombed on Wednesday, the council continued, adding that "information about the victims is still being clarified."
1 min ago
US citizen among people killed by Russian shelling in Chernihiv, according to Ukrainian and US officials
From Andrew Carey and Olga Voitovych in Lviv and Jennifer Hansler in Washington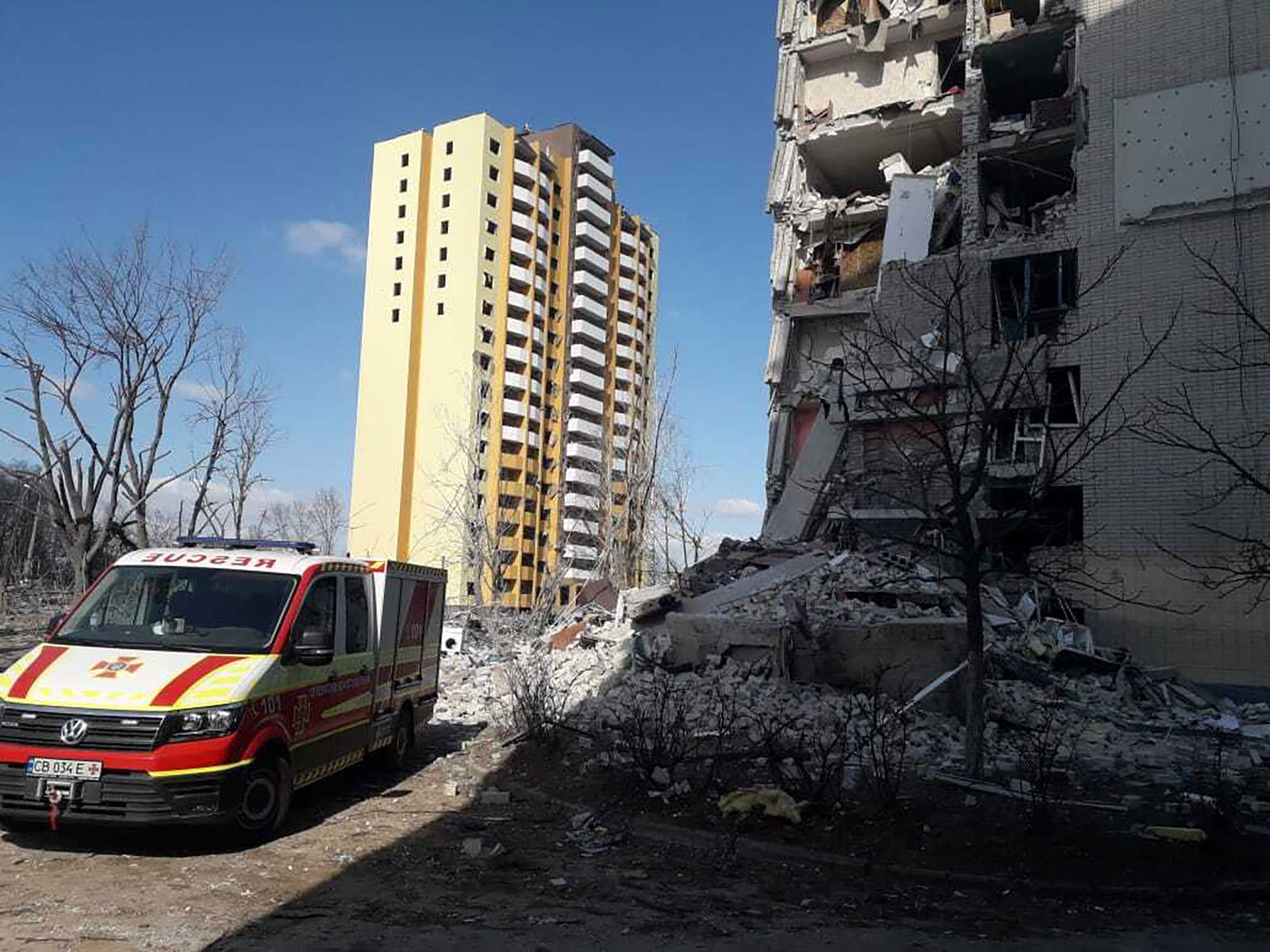 A US citizen was among several people killed in the northern Ukrainian city of Chernihiv on Thursday, Ukrainian police said. 
The US State Department confirmed the death and offered condolences to the family. 
"Out of respect to the family during this difficult time, we have no further comment," a spokesperson added.
A Ukrainian police statement said the deaths were the result of Russian artillery fire on the city.
Chernihiv, to the northeast of Kyiv and close to the Russian border, has seen some of the most intense shelling from Russian forces since the war began more than three weeks ago.  
Earlier Thursday, regional head Vyacheslav Chaus said more than 50 bodies had been brought to the city's morgue on Wednesday. Among those killed were more than 10 people lining up to buy bread.  
In a separate statement Thursday, Ukraine's emergency services said that in the process of clearing rubble from a building damaged in previous strikes, they discovered the bodies of a family of five, including a 12-year old girl and 3-year-old twins, a boy and a girl.  
4 min ago
Russian forces have conducted over 1,000 missile launches since beginning of invasion, US official says
From CNN's Ellie Kaufman
Russian forces have now conducted "more than 1,000 missile launches" since the beginning of their invasion of Ukraine, a senior US defense official told reporters Thursday.
The US is seeing "continued naval activity in the north Black Sea off the coast of Odesa," but there has been no "shelling over the course of the last 24 hours," the official said.
There have been "no imminent signs of an amphibious assault on Odesa," the official added.
20 min ago
Twitter's restrictions on Russian state media have successfully limited reach of content, company says
From CNN's Brian Fung
Twitter said Wednesday that its interventions against Russian state media have successfully limited the reach of that content, reducing it by 30% on the platform.
The announcement follows Twitter's effort late last month to curb users' sharing of Russian state media content. At the time, Twitter said that users had been sharing links to Russian state outlets more than 45,000 times a day, far surpassing the number of shares by actual Russian state media accounts on Twitter. 
The company didn't immediately respond to questions Thursday about how widely viewed Russian state media content may now be on the platform. 
Twitter began applying warning labels on Feb. 28 to all links leading to Russian state media websites, and it began demoting that content algorithmically. So far, 61,000 tweets have been labeled under the change, the company said in a blog post Wednesday.
Twitter also said Wednesday it has now begun labeling Ukrainian and Belarusian government accounts as being government-run.
Twitter has removed more than 75,000 accounts since the invasion for attempted platform manipulation and inauthentic behavior, the company added, as well as 50,000 pieces of misleading content about the war such as videos falsely purporting to show the Ukraine conflict. Twitter didn't immediately respond to questions about how much misleading content may remain on its platform that has not been removed.
It is not clear whether all of the 75,000 removed accounts had been sharing Ukraine-related content, but Twitter said it did not detect any specific government-coordinated influence operations among them.
17 min ago
Koch Industries condemns invasion of Ukraine, but says it will continue to operate in Russia
From CNN's Matt Egan
Koch Industries, the conglomerate run by billionaire Charles Koch, is planning to stay in Russia even as hundreds of Western companies have scaled back operations there following the invasion of Ukraine.
In a statement on Wednesday, Koch Industries announced its Guardian Industries subsidiary will continue to operate two glass manufacturing facilities in Russia that employ about 600 people. 
"While Guardian's business in Russia is a very small part of Koch, we will not walk away from our employees there or hand over these manufacturing facilities to the Russian government so it can operate and benefit from them," Koch Industries President Dave Robertson said in the statement. "Doing so would only put our employees there at greater risk and do more harm than good."
Beyond the two factories, Koch Industries said it employs 15 people in Russia but has no other physical assets in the country. 
The announcement came on the same day that Ukraine's President Volodymyr Zelensky called on America, including business leaders, to do more during what is the "darkest time" for his country.
"All American companies must leave Russia from their market, leave their market immediately, because it is flooded with our blood," Zelensky said during his address to Congress on Wednesday.
Koch Industries said it is complying with all sanctions, laws and regulations within all countries it operates in. 
The company condemned Russia for its invasion of Ukraine. 
"The horrific and abhorrent aggression against Ukraine is an affront to humanity," Robertson said. 
Koch Industries said it has provided financial assistance to employees and their families from Ukraine and humanitarian aid to those impacted in neighboring countries.
21 min ago
American couple describes the struggle to get their prospective adoptive children out of Ukraine
From CNN's Maureen Chowdhury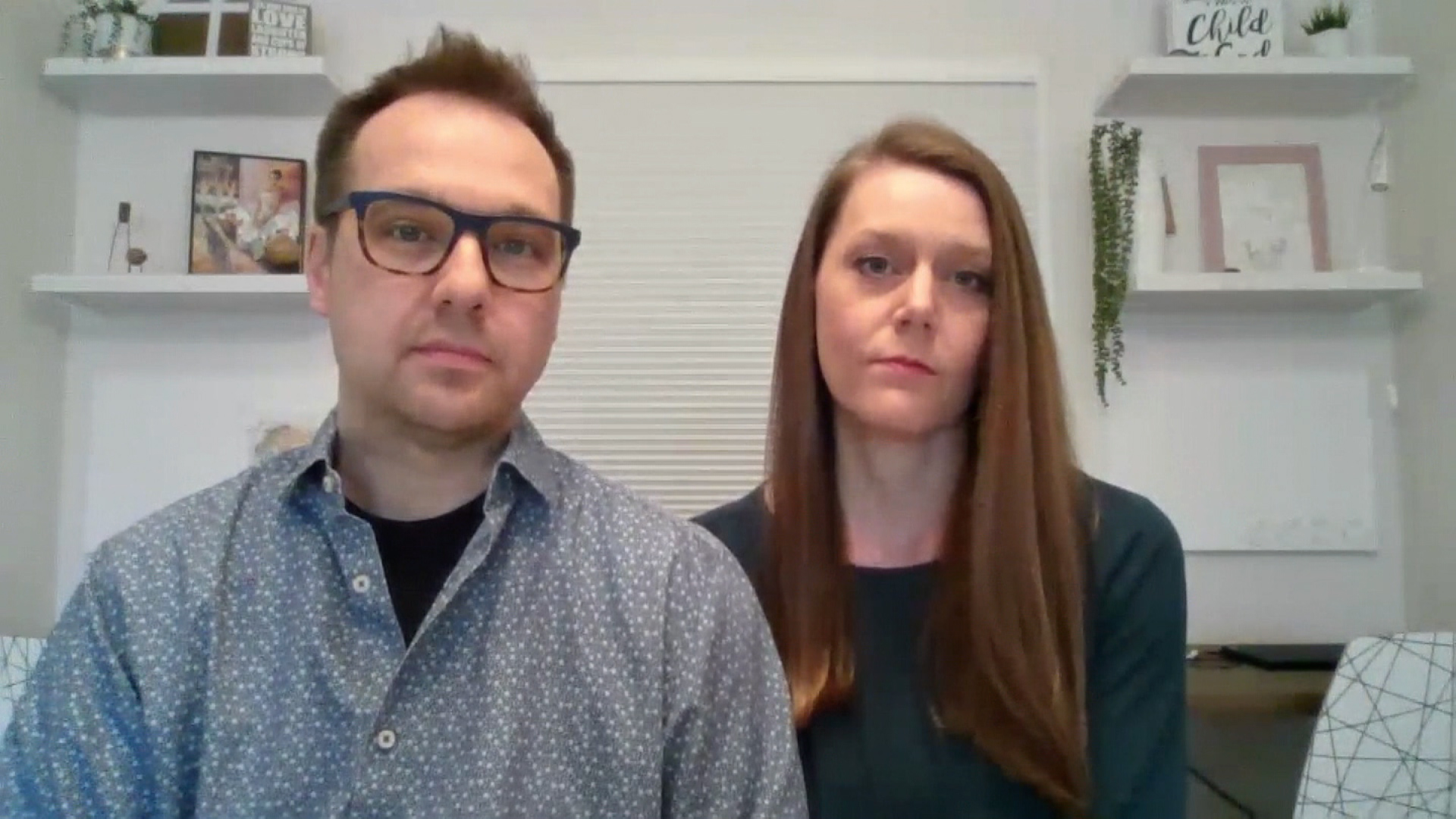 Two Ukrainian children who were awaiting adoption by an American couple are now stranded in the country as the war progresses and the adoption process is stalled.
Wendy and Leo Van Asten told CNN's Bianna Golodryga that they are concerned for the safety and well-being of their prospective adoptive children.
"The last time we spoke to the children was with our perspective adoptive son, about three nights ago when they were heading to the bomb shelter in their building, yet again, and he said, 'Mama, I can hear tanks firing. We're going to the bunker,'" Wendy said.
This isn't the first time the children, who are 14 and 15 years old, have experienced the trauma of war.
"This is not the first time that they've had to evacuate from a war. They were brought out of their original hometown of Donetsk in 2014 when all of that action took place over there. So unfortunately, this is not new for them. So they have been very quiet," Leo said.
Both prospective parents are concerned about the "compounding of trauma" that the children are facing.
"They already had trauma — I mean they've already been having the separation from their birth family is trauma enough. A war zone — a first war zone is trauma enough and now a second one that's much worse. This is much different. Obviously, so widespread throughout Ukraine and we are so concerned for what this is doing to them. And, of course, we're concerned for their safety because although they haven't received direct shelling, they have received enough that they've gone to the bunker every day. So we're scared that one of those times it could be them," Wendy explained.
Leo added that the war has stalled adoption efforts.
"Getting them out of the country is stalled and ultimately, what we would love is for them to be able to find some refuge in the United States. We'd love to have our two prospective adoptive children in our home so we can care for every need they have. But it's stalled on their side. The Ukrainian government is not allowing children to come to the United States and honestly, right now the United States doesn't have emergency Visas in accomplice to — place to cover these children," he said.
Watch the full interview here:
29 min ago
US expects majority of Ukrainian refugees will stay in Europe, Homeland Security secretary says
From CNN's Priscilla Alvarez
The Department of Homeland Security has deployed refugee officers to assist with the Ukrainian refugee crisis, though it's unclear how many will ultimately want to come to the United States. 
"We don't have estimates of the number of Ukrainians who will seek refuge a tremendous distance away from their country, but we understand that the vast majority of Ukrainians hope to return to Ukraine," Homeland Security Secretary Alejandro Mayorkas told reporters Thursday, citing communications with European countries and information gathered directly. 
DHS is the lead federal agency coordinating domestic preparedness and response efforts related to the Russia-Ukraine crisis.
Mayorkas also said the administration is exploring other avenues of humanitarian relief that they can extend to Ukrainians. CNN previously reported that the administration is actively discussing how to expedite the process for Ukrainian refugees trying to come to the United States.  
Officials are also monitoring for a potential uptick in Ukrainians and Russians seeking entry at the US-Mexico border. Mayorkas said Border Patrol agents were reminded of exemptions to a Trump-era pandemic emergency rule, known as Title 42, that's allowed authorities to turn away migrants at the US-Mexico border. 
"There was guidance issued to Border Patrol agents that reminded them of the fact that individualized exceptions to the Title 42 authority held by the (CDC) is in place and can be applied to Ukrainians," he said.
37 min ago
US President Biden calls Putin a "murderous dictator, pure thug" 
From CNN's Nikki Carvajal
US President Joe Biden called Russian President Vladimir Putin a "pure thug" while speaking at a St. Patrick's Day event Thursday.
At the annual Friends of Ireland Luncheon on Capitol Hill, Biden said Putin is a "murderous dictator, a pure thug who is waging an immoral war against the people of Ukraine." 
Biden also said Ireland has "stepped up" in the face of Russian aggression against Ukraine. He said the relationship between Ireland and the United States was "taking on an even more intense and cooperative forum than it ever has because of Ireland's neutrality." 
"Putin is paying a big price for his aggression, and they are part of the reason the cost is going so high," Biden said.  
In their support for sanctions against Russia and for Ukraine, Biden said Ireland was also "paying a big price" for a contribution he called "not minor." 
"Everybody talks about how Germany have stepped up and changed their notions about being more leaning forward, and they have," Biden said, "and so has Ireland. A neutral country, Ireland has stepped up, and they're taking the hit for what they're doing."  
The President also referenced his upcoming call with Chinese President Xi Jinping Friday, joking that Xi "remembers everything I've said." 
"All kidding aside," Biden continued, "he does not believe in democracy can be sustained in the 21st century." 
Irish Prime Minister Micheál Martin was scheduled to attend the event, but was diagnosed with Covid-19 on Wednesday. Biden, who had just attended a virtual meeting with Martin before heading to Capitol Hill, said the Taoiseach was "really sorry he can't be here" and that he "feels well" despite the diagnosis.