Schuyler Hospital recently introduced a new Computed Tomography (CT) suite within the Hospital including the addition of a new state-of-the-art CT unit.
Schuyler Hospital has further solidified its commitment to higher diagnostic quality images at a lower dose to the patient with the addition of GE Healthcare's leading CT imaging technology. The Revolution Maxima delivers high-quality images while delivering optimized dose levels with a quicker scanning speed.
This new CT unit offers the "gold standard" of care in today's Radiology environment when it comes to the time the patient needs to be in the scanner for their CT scan. It also offers a lower Radiation dose as compared to the old CT unit. This new CT unit is compliant with the "Image Wisely" program concept of providing the lowest possible radiation dose to the patient and, at the same time, being able to obtain superior CT images for diagnosis. This "gold standard" of care is important for our pediatric patients as well and has been a huge focus of the American College of Radiology (ACR) and the Joint Commission (JCAHO) of pediatric imaging.
"By bringing this new technology to our patients, we can ensure that they will receive an unmatched level of service, whether they are here for an emergency or for more routine diagnostics," said Rebecca Gould, President of Schuyler Hospital, adding, "We are grateful for the support of the Schuyler Health Foundation on this project."
In April of 2021, the Schuyler Health Foundation donated $500,000 to Schuyler Hospital to renovate Imaging Services, including an upgrade to CT services.
"The Schuyler Health Foundation's mission is to invest in the highest quality and equitable health care services at Schuyler Hospital, and this project meets that purpose," said Erin Thaete, Chair, Schuyler Health Foundation. "We are proud to have funded this project, and to see the new CT Suite open and serving our community."
"We are pleased to bring this technology to the very deserving residents of this community," said David Vaccaro, Strategic Imaging Account Manager for GE Healthcare.
The Revolution Maxima is equipped with an exclusive low dose reconstruction technology that can help physicians significantly reduce dose while maintaining the high image quality and low contrast detectability they need for accurate diagnosis.
The Revolution Maxima system is a 64-slice scanner that allows for fast, high-quality acquisition at optimized dose for patients young and old, large and small, and can be used across a wide spectrum of procedures.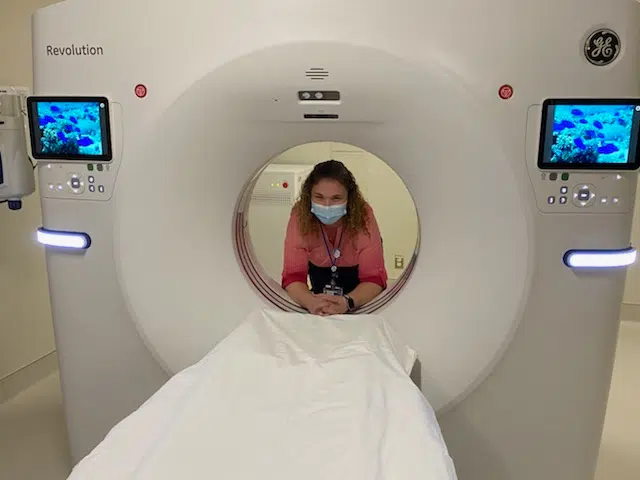 Get the top stories on your radio 24/7 on Finger Lakes News Radio 96.3 and 1590, WAUB and 106.3 and 1240, WGVA, and on Finger Lakes Country, 96.1/96.9/101.9/1570 WFLR.