1 min ago
Blinken says US has imposed sanctions on company building Russian gas pipeline
From CNN's Jennifer Hansler
The United States has terminated waivers and imposed sanctions on Nord Stream 2 AG — the parent company of the Nord Stream 2 gas pipeline — and its top executives, US Secretary of State Antony Blinken said in a statement Wednesday night.
US President Joe Biden said earlier in the day he had authorized the sanctions "in response to Russia's actions in Ukraine." 
The waivers: Last year, the Biden administration waived the sanctions on the company behind the controversial gas pipeline between Russia and Germany, claiming "it was in the national interests of the United States."
However, Blinken said Wednesday that following Russia's actions this week, those waivers were no longer in the US' national interest. The newly imposed sanctions and visa restrictions target the company, its CEO Matthias Warnig, and its corporate officers.
"All property and interests in property of those sanctioned that are in or come within the United States or are in the possession or control of U.S. persons must be blocked and reported to the U.S. Department of the Treasury's Office of Foreign Assets Control (OFAC)," Blinken said in the statement.
"Individuals and entities knowingly engaged in sanctionable conduct related to Nord Stream 2 face similar sanctions risks."
8 min ago
Ukrainian forces "shell Donetsk," according to separatists and Russian state TV 
From CNN's Nathan Hodge in Moscow
Russian state news reported on Thursday that Ukrainian security forces have shelled the pro-Moscow region of Donetsk in eastern Ukraine, citing reports from the Donetsk People's Republic representative office in the Joint Center for Control and Coordination of the Ceasefire Regime (JCCC).
State news agency RIA-Novosti quoted the report as saying the shelling was in the direction of the village of the Trudovskaya mine, on the outskirts of Donetsk, at 2:40 a.m. Ten 120mm mortars had been fired, heavy weapons that are prohibited by the Minsk agreements, according to the reports.
Russian state television also reported heavy fire in separatist-held parts of eastern Ukraine. CNN could not immediately verify those reports.
The US State Department has warned that Russia may use so-called false flags, including claims that Ukraine is attacking Donetsk, to justify an invasion. 
Some background: The 2015 Minsk agreement was hammered out in the Belarusian capital in a bid to end what was then a bloody 10-month conflict in eastern Ukraine. But it has never been fully implemented, with its key issues still unresolved.
It was was signed by representatives of Russia, Ukraine, the separatist leaders and the Organization for Security and Co-operation in Europe (OSCE). It was subsequently endorsed by a UN Security Council resolution. This put an end to the worst of the fighting at the time.
37 min ago
Key Ukrainian government websites are down after series of cyberattacks
From CNN's Sean Lyngaas
Key Ukrainian government websites were down early Thursday local time following a day in which Ukrainian agencies dealt with multiple cyberattacks and as concerns mounted over Russian troop movement into Ukraine's separatist regions.  
The websites of the Ukrainian Cabinet of Ministers, and those of the ministries of foreign affairs, infrastructure, education and others, were experiencing disruptions.
In a separate and potentially more serious hacking incident hours earlier, a data-wiping tool was found on hundreds of computers in Ukraine, according to cybersecurity researchers, raising concerns that a destructive cyberattack was unfolding amid Russia's military escalation.
35 min ago
Volunteer with Ukraine's Territorial Defense Force says he's ready to "do anything they need me to"
From CNN's Ivana Kottasova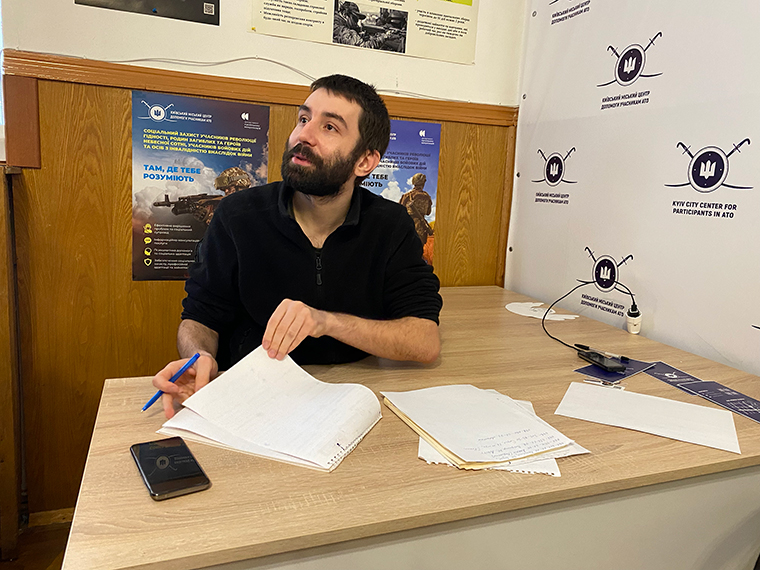 The recruitment center of Ukraine's Territorial Defense Force across the street from Kyiv's town hall was buzzing with activity on Wednesday.
At one point, volunteers were queuing to sign up. The branch of Ukraine's armed forces is comprised mostly of civilian volunteers who receive military training and are charged with protecting key sites.
"In the summer, we received two to four calls in a week," Pavlo Shchybria, who was manning the information desk, told CNN. "By the beginning of the winter, 20 to 30 people were calling each week, now, since the beginning of February, we have 200 people a day."
The force has recently started a massive recruitment push. Posters asking people to sign up are displayed on Kyiv's metro and elsewhere across the city, with a big campaign on social media.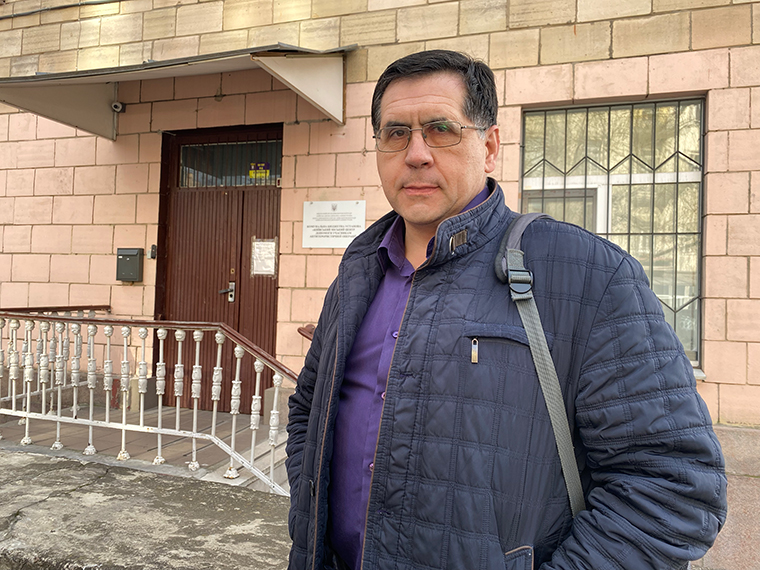 Leonid Atamasiev, a 46-year old tech worker, was one of those visiting to sign up after learning about the recruitment center online.
"Now, at this time, we all need to defend our country. So that's why I came here. This is the time when we all need to stand together. All of us, no matter what age," he told CNN.
Atamasiev said he has never been in the military, but has worked as a volunteer in the past.
"I don't know what I will do, but I am ready to do anything they need me to," he said.
59 min ago
On the ground: Russian military trucks driving with license plates turned backward, long convoys forming
From CNN's Jason Kurtz
CNN's Frederik Pleitgen has witnessed what he describes as "a lot of very ominous movement" on the ground in Russia, near northeast Ukraine.
"We've seen … military trucks, who have actually had their license plates on backwards. They turned the license plates around, which could be them trying to mask some sort of movement," Pleitgen told CNN.
"The Russian military really [is] in a position where it certainly seems as though they could strike at any point in time," he added.
Meanwhile, further south, near Donetsk, Pleitgen noted other examples of assembled Russian military.
"You see a lot of Russian convoys there that seem to be forming," he said. "[It is] unclear whether or not they've gone over the border yet, the way that all of this could happen is, you might have two areas where the Russians might try to go across the border."
Pleitgen closed his live report by offering a statement on the general atmosphere in the region.
"You really feel how things are getting more tense here by the minute," noted Pleitgen, adding, "you certainly also see that the Russian military is on the ground here, and certainly at least seems to be in a position to be able to strike at any point in time if Vladimir Putin chooses to order that."
1 hr 33 min ago
Russia issues notice closing flight paths along border with Ukraine
From CNN's Tim Lister and Pete Muntean
Russia has issued a notice banning civil aircraft from flight routes bordering north-eastern Ukraine.
Russia issued a NOTAM (notice to airmen or notice to air missions) that covers a corridor of territory where Russian forces have gathered over the past weeks.
The NOTAM remains in force until May 18.
58 min ago
"If we are attacked, we will defend ourselves," Ukraine's president says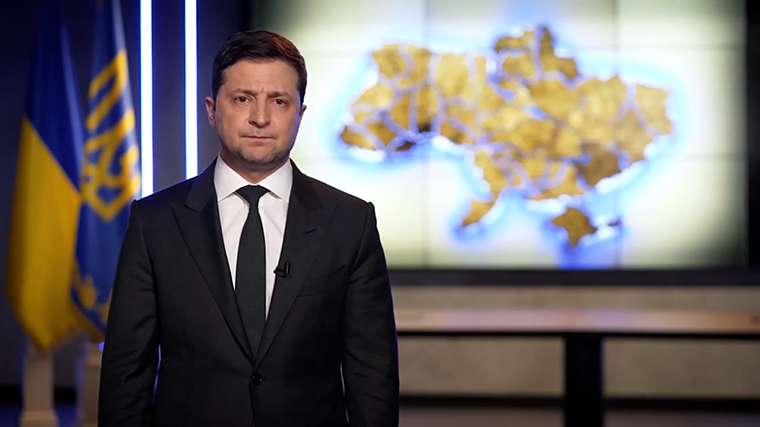 Ukraine's President Volodymyr Zelensky said his country has no need for war but added that if attacked, his nation will defend itself.
"We have no need for another Cold War, or a bloody war, or a hybrid war," Zelensky said in an address posted on his official Facebook account early Thursday local time.
"But if we are attacked militarily, if they try to take away our freedom, our lives, our children's' lives, we will defend ourselves," the Ukrainian president added, in a speech in Russian, aimed at Russian citizens. "When you attack, you will see our faces and not our spines, our faces."
Zelensky called war a "terrible misfortune." He said he was ready to continue diplomatic talks with Russia and argued that Ukraine does not pose a threat to Russia. 
"They say that Ukraine may pose a threat to Russia. This wasn't a case in the past, nor is it now, and won't be in the future," he said. "Our main goal is to maintain peace in Ukraine and keep Ukrainian citizens safe. For this we are prepared to hold discussions with everyone, including you [Russia], in whatever format you like at whatever venue."
"Russian TV will surely not show this video, but the Russian people must watch it. The truth must be known. And that truth is that this all needs to stop now, before it's too late," Zelensky said.
"If the leadership of Russia does not want to sit at the table with us to make peace, perhaps it will sit at the table with you. Does Russia want a war? I would very much like an answer to this question. But that answer depends only on you, citizens of the Russian Federation," he said.
Watch part of President Zelensky's speech:
1 hr 50 min ago
UN Security Council will hold emergency meeting related to Russia Wednesday night
From CNN's Mirna Alshariff
The United Nations Security Council will hold an emergency meeting Wednesday night related to Russia at the request of Ukraine.
The meeting, which is scheduled for 9:30 p.m. ET, is expected to be open, though CNN is working on further details.
"Ukraine has requested an urgent meeting of the UN Security Council due to the appeal by Russian occupation administrations in Donetsk and Luhansk to Russia with a request to provide them with military assistance, which is a further escalation of the security situation," Ukrainian Foreign Minister Dmytro Kuleba tweeted earlier in the evening.
 Read the tweet:
2 hr 2 min ago
US secretary of state says Russia is putting "final touches" on forces for a "full-on invasion"
From CNN's Jennifer Hansler, Kylie Atwood and Adrienne Winston
Russia is "putting the final touches" on having forces in places for a "full-on invasion," Secretary of State Antony Blinken said Wednesday, and said the US has "certainly seen the presence of Russian forces inside of Ukraine." 
Blinken did not elaborate on the Russian forces he said they have seen inside Ukraine.
In an interview with ABC News, Blinken said he couldn't give "specific numbers," but "everything we've seen over the last 24 to 48 hours has Russia of putting the final touches on having its forces in place across all of Ukraine's borders, to the north, to the east, to the south, to be ready for a full-on invasion." 
Blinken pushed back on the notion that a Russian invasion into Ukraine would be a failure of US diplomacy during an interview with the CBS Evening News. 
"Diplomacy succeeded very effectively in bringing the world together, the United States and Europe together in standing up to Russian aggression," Blinken said
He also held out hope that the threat of further costs could still prevent President Putin from going forth with a full-scale invasion.
"We've made it clear that if Russia continues to escalate, if it engages in a full-scale invasion of Ukraine, beyond what it's already doing, we will escalate to and I hope that that knowledge may still act as a deterrent," Blinken said.
He warned of the long-term costs to Putin if the invasion happens.
"It doesn't deter Putin from further aggression to Ukraine," he said, referring to joint action by the US and its allies, "there will be a very swift and severe response. This is a price that Vladimir Putin and Russia will pay for a long, long time."