13 min ago
The White House is expected to allow toughest sanctions on controversial Russian gas pipeline
From CNN's Natasha Bertrand, Phil Mattingly and Kevin Liptak
The Biden administration is expected to announce on Wednesday that it will allow sanctions to move forward on the company in charge of building Russia's Nord Stream 2 gas pipeline, after blocking such sanctions last year using a national security waiver. 
The move, described by three US officials, is part of a series of penalties the US and its allies have imposed on Russia this week in response to Russian President Vladimir Putin's recognition of separatist territories in eastern Ukraine as independent. 
The administration decided to move forward with rescinding the national security waiver after Germany on Tuesday announced that it was halting the certification of the pipeline, the official said. Sanctioning Nord Stream 2's parent company, Nord Stream 2 AG—a registered Swiss firm whose parent company is the Russian gas giant Gazprom—is effectively a death knell to the project, the official added. 
The move marks a significant shift in the administration's policy toward Nord Stream 2, which had previously been to sanction some of the smaller entities involved in the project— including some Russian companies and ships that have been helping in the construction—but to hold off on sanctioning Nord Stream 2 AG and its CEO, Matthias Warnig.
US President Joe Biden and the State Department's top energy official Amos Hochstein, who has been in charge of the diplomacy surrounding Nord Stream, had long been opposed to the project. But the concern was that imposing the harshest penalties on it would crater the US' relationship with Germany, which insisted the pipeline was just a commercial project.
But now that Germany — after intensive diplomacy with the US — has agreed to halt the pipeline's certification indefinitely, the US feels freer to allow the congressionally-mandated sanctions to move forward. Essentially, the administration wanted Germany to decide on its own to halt the pipeline before moving forward with more punishing sanctions on the project, the official explained.
The move is likely to be met with bipartisan support — Democratic and Republican lawmakers have long seen the pipeline as a potential threat to Europe because Russia has used its control over energy supplies to pressure countries in Eastern Europe, including Ukraine, by shutting off those supplies, even in winter months. 
Concern in Congress about the pipeline has been acute enough that lawmakers passed legislation with significant bipartisan majorities in 2019, then expanded it in 2020, requiring sanctions against Nord Stream 2.
The administration, last year, waived the toughest sanctions, on Nord Stream 2 AG and its CEO, on national security grounds, prompting Republican Sen. Ted Cruz to hold up dozens of Biden's nominees to top national security and ambassador posts. 
CNN has reached out to the State Department for comment.
Read more about Nord Stream 2 and why it matters.
16 min ago
French foreign minister warns about more European sanctions on Russia
From CNN's Joseph Ataman in Paris
French Foreign Minister Jean-Yves Le Drian warned of additional European sanctions on Russia, but noted that the European Union is still hopeful there can be further dialogue toward a "peaceful ending" to the ongoing crisis in Ukraine. 
"The first packet of sanction are serious; they will hurt," Le Drian said. "There will be other packets."
The foreign minister's remarks echo that of France's Finance Minister Bruno Le Maire, who warned Wednesday that European leaders have "infinitely more penalizing" sanctions at their disposal to impose on Russia in an interview with CNN affiliate BFMTV. 
The European Union on Tuesday said it would sanction all 351 lawmakers of the Russian lower house, the Duma, who voted in favor of recognizing the independence of the separatist-controlled Donetsk People's Republic and Luhansk People's Republic.
Addressing reporters in Berlin on Wednesday, Le Drian warned that "anything is possible, even the worst," but stressed that there is still time for negotiations. 
"There's a space of discussion that will continue to be open for the peaceful ending the Ukrainian crisis," the French foreign minister said. 
Speaking alongside Le Drian, German Foreign Minister Annalena Baerbock said European leaders and partners "want to avert war" but will take a hardline approach to Russia if needed. 
"We do not want a war in Europe, and it is on Russia to take back these steps," Baerbock said. 
"We kept making clear that we will take all hard measures if necessary," she added.  
12 min ago
EU plans to sanction Russian defense minister and Kremlin-backed Internet Research Agency, diplomat says
From CNN's Niamh Kennedy and Luke McGee
The European Union is planning on sanctioning the Russian Defense Minister Sergei Shoigu and the Kremlin-backed Internet Research Agency (IRA), according to a senior EU diplomat.  
The diplomat told CNN Wednesday that the sanctioning of the defense minister and agency should "be a done deal."  
All that remains is for the sanctions to be formalized "through written procedure," and then they should be published and enter into force later on Wednesday, the diplomat said, though nothing will be official until formally announced.  
The diplomat hailed it as "an impressive feat" to have coordinated these sanctions between the 27 member states in "such a short timeframe." 
The Wall Street Journal first reported the bloc's plan to sanction Shoigu and the agency.  
Some background: In 2019, then-Special Counsel Robert Mueller in his Russian investigation report outlined how the IRA engaged in a years-long campaign to sow discord in the US, and eventually to support the election of Donald Trump, by creating and maintaining fake social media personas and activist organizations designed to look like they were run by real Americans. The troll group also successfully used fake accounts on Twitter to provoke reactions from high-profile American users from across the political spectrum.
In 2020, former President Donald Trump confirmed the US conducted a covert cyberattack in 2018 against the IRA.
A CNN investigation in 2020 discovered that at least part of the IRA's campaign was outsourced to trolls in Ghana and Nigeria. They focused almost exclusively on racial issues in the US, promoting Black empowerment and often displaying anger toward white Americans. The goal, according to experts who follow Russian disinformation campaigns, was to inflame divisions among Americans and provoke social unrest.
47 min ago
Biden's latest Russia sanctions target the families of Putin's inner circle. Here's who is impacted. 
From CNN's Phil Mattingly
The new US sanctions triggered by Russian's latest actions in Ukraine included targets that in the past have gone untouched: the family members of those in Russian President Vladimir Putin's inner circle.
By designating the sons of two powerful players close to the Russian President, the Biden administration sent a clear signal that its target list for individual sanctions extends beyond public officials and financiers as part of a new effort to shut down pathways for top Putin associates to shield their wealth by giving it to family members.
Denis Bortnikov and Vladimir Kiriyenko, both designated for individual sanctions by the Treasury Department on Tuesday, hold their own prominent positions in Russian business. But both will now have any US-held assets frozen and be barred from dealing with any US persons solely because their fathers serve as Putin's domestic intelligence chief and as one of Putin's closest advisers, respectively.
"They share in the corrupt gains of the Kremlin policies and should share in the pain as well," Biden said Tuesday.
Sanctioning the sons of two of Putin's closest officials doesn't carry the impact of other measures announced on Tuesday, most notably imposing sanctions on two of Russia's most prominent banks and reducing the country's ability to access Western finance.
But they are meant to unsettle a very personal element of the Russian economy, one driven by the reality that Putin's inner circle and the family members tied to them represent an extraordinary consolidation of wealth and power inside the country.
"This is unprecedented because we are extending the reach of US sanctions to prevent the elites close to Putin from using their kids to hide assets, evade costs, and squander the resources of the Russian people," a senior Biden administration official told CNN. "This is a new approach."
It is clear, officials say, that the opening salvo of that approach is unlikely to be the last.
The sanctions are aimed at "powerful Russians in Putin's inner circle believed to be participating in the Russian regime's kleptocracy and their family members," according to the Treasury Department.
Denis Bortnikov is the son of Aleksandr Bortnikov, the powerful head of the Federal Security Service, Russia's domestic intelligence service known as the FSB. The elder Bortnikov, already subject to sanctions in March of last year, was re-designated for sanctions in the new round.
Vladimir Kiriyenko is the son of Sergei Kiriyenko, the former prime minister and current first deputy chief of staff of the presidential office who is viewed by US officials as "Putin's domestic policy curator." The elder Kiriyenko, also sanctioned in 2021, was also re-designated for sanctions on Tuesday.
The re-designations were necessary to create the legal pathway to target their sons for designation, which freezes all property and interests in property in the US, or in possession or control of a US citizen.
The two sons currently hold prominent roles of their own — Bortnikov as deputy president of VTB Bank, one of Russia's largest financial institutions, and Kiriyenko as the recently installed CEO of VK Group, which serves as the parent company of the Russian social media company VK, which calls itself "the largest European social network."
A third sanctioned individual, Petr Fradkov, serves as the CEO of Promsvyazbank, the military bank also targeted for sanctions on Tuesday. But he, too, carries a key familial tie to the upper echelons of Putin's orbit.
Fradkov is the son of Mikhail Fradkov, an ex-prime minister of Russia and the former chief of the Russian Foreign Intelligence Service, or SVR. The elder Fradkov was targeted for sanctions by the US in 2018.
Read more about the sanctions here.
12 min ago
White House says additional sanctions on Russia, including export controls, could come "at any moment"
From CNN's Betsy Klein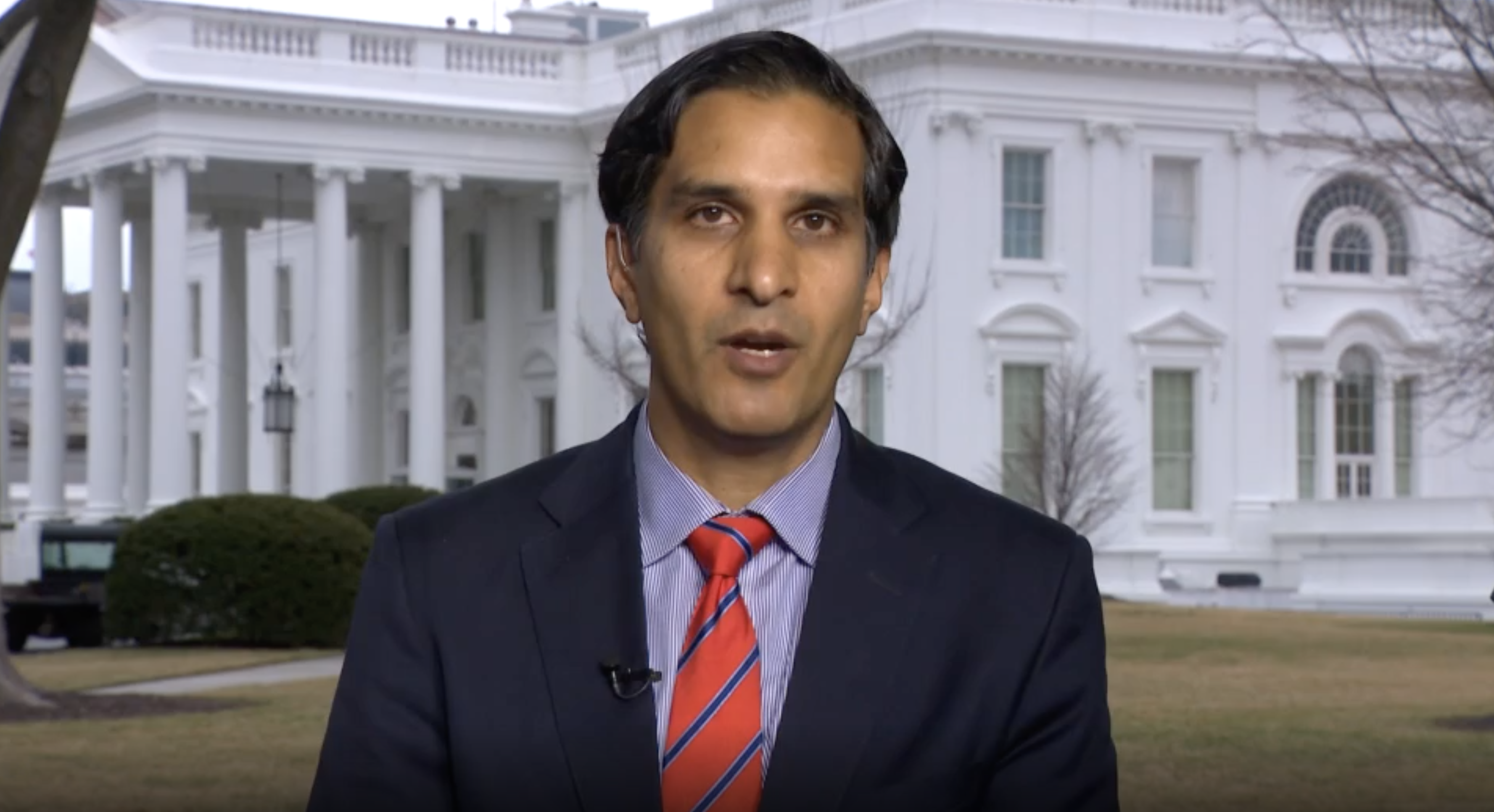 The White House said Wednesday to expect additional sanctions on Russia, suggesting that even if Russia were to take no further action in Ukraine, the US and allies will continue to impose costs on the country.
Deputy national security adviser Daleep Singh did not specify timing during an appearance on CNN's "New Day," but he pointed to the types of sanctions the US might pursue, including export controls "at any moment."
"These costs are going to escalate from here. The two largest banks in the Russian economy are $750 billion in assets under management, that's 10 times larger. Our export controls, which can deny all of the critical technology inputs to Russia, have yet to be unveiled. We can unveil those at any moment," he said.
Asked by CNN's John Berman whether there would be no further sanctions if Russia did not take further steps in Ukraine, Singh said, "No."
"Costs continue to ratchet higher. The violation of Ukraine's territorial integrity and its sovereignty are unacceptable," he said.
He described Tuesday's sanctions as a "demonstration effect" that will "go higher and higher."
Singh also reacted to a call from Ukraine's foreign minister to hit Russia with more sanctions now.
"Sometimes I wonder if there's almost a bloodlust out there for sanctions as an end to themselves. But let me just be really clear. We did hit hard yesterday," he said, pointing to Tuesday's package of sanctions on banks, debt, and oligarchs, as well as Germany's announcement it would halt the Nord Stream 2 pipeline.
Pressed by Berman on who that bloodlust was from, he aimed his attack at the media, and not the Ukrainian foreign minister.
"I hear it from many in the media, why didn't you impose all of your sanctions on day one?" he said.
Asked again whether he was targeting the Ukrainian official with that phrasing, he said, "No, no I'm not saying that. I'm saying I hear from questions out there and commentary."
Asked if there had been a change to the current military situation, Singh maintained status quo, saying Russia is still "poised and positioned to launch a major invasion, a large scale invasion across much of the territory of Ukraine, from the north, from the east, and from the south, that has not changed."
1 hr 7 min ago
Russian foreign ministry warns of a "finely tuned and painful" response to US sanctions
From CNN's Nathan Hodge and Anna Chernova in Moscow
Russia's Ministry of Foreign Affairs on Wednesday warned of a "finely tuned and painful" response to the United States after the Biden administration imposed fresh sanctions on Moscow. 
The statement alleged that the sanctions are part of Washington's "ongoing attempts to change Russia's course," and added that the pressure will not prove to be a deterrence.
"Russia has proved that, despite all the sanctions costs, it is able to minimize the damage. And even more so, sanctions pressure is not able to affect our determination to firmly defend our interests," it read.
The ministry also reiterated that it's open for diplomacy but warned that the US will receive a response from Russia.
"We are open to diplomacy based on the principles of mutual respect, equality and consideration of each other's interests," the statement read. "There should be no doubt that sanctions will receive a strong response, not necessarily symmetrical, but finely tuned and painful to the American side."
1 hr 7 min ago
Zelensky says the "future of European security" is being decided now in Ukraine
From CNN's Tim Lister in Kyiv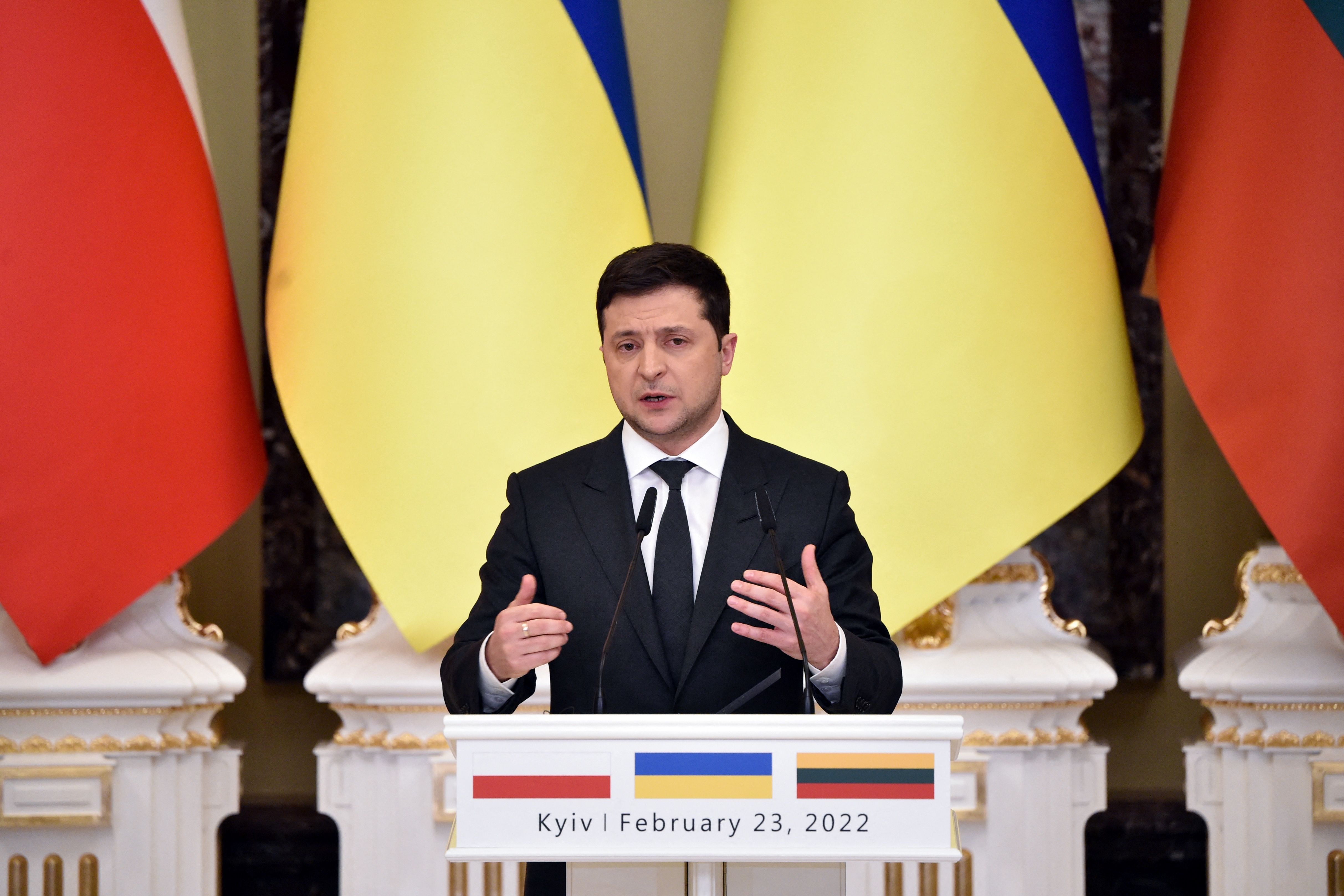 Ukrainian President Volodymyr Zelensky said that the "future of European security is being decided now, here in Ukraine" in a news conference in Kyiv Wednesday.
Speaking alongside the Polish and Lithuanian leaders, Zelensky said:
"We are unanimous in our assessment of the crimes of the Russian Federation. This is yet another act of aggression against Ukraine, its sovereignty, our territorial integrity."
Zelensky called for a tough regime of sanctions against Russia.
US President Joe Biden said on Tuesday the US will sanction Russia's financial institutions and oligarchs. The United Kingdom, European Union, Canada, Australia and Japan also announced fresh sanctions on Russia.
"The military presence of the Russian Federation on the occupied territory of Donbas has been hiding behind the separatist uniform," he said.
"And now we see this is a unilateral departure from the Minsk agreements," he added, referencing Russia's announcement that the Minsk agreement — designed to bring peace to the eastern regions of Ukraine — no longer applied.
"This is an undermining of Ukrainian and international attempts to regulate the situation in the Ukrainian Donbas," Zelensky said. "The response of the international community to this crime should be decisive, immediate and harsh."
"We need to completely stop the Nord Stream project, which is a weapon that is already being used against Ukraine and Europe," he added.
Yesterday, Germany said it halted certifying the $11 billion 750-mile pipeline that connects Russia directly to Germany. The Nord Stream 2 project was completed in September but has not yet received the final green light from German regulators.
Standing next to Zelensky, Polish President Andrzej Duda said, "We are all walking the narrow path between peace and further stable development and war. Poland condemns Putin's decision about recognition."
1 hr 47 min ago
New satellite images show additional field hospital and shelters near Ukrainian border
From CNN's Paul P. Murphy
New satellite images from Maxar Technologies show that additional troops, vehicles and logistics infrastructure have been deployed in recent days to the Ukrainian border by Russia.  
The starkest image was taken over an airfield just southwest of Mazyr, Belarus, where dozens of tents and vehicles have appeared in recent days.  
A satellite image from Feb. 4 showed the area was completely vacant. That airfield is just under 40 kilometers— about 24 miles — from the Ukrainian border.
CNN has geolocated numerous videos posted to social media that show significant activity in the area, with some convoys moving even closer in the direction of the Ukrainian border.  
Past satellite images in the area have shown significant activity around Belgorod, Russia, and the latest set of images show even more.
Just west of the city, Maxar Technologies said a new field hospital has been constructed at a military site. Southwest of the city, additional troops and equipment are seen in satellite images as well.
2 hr 1 min ago
US treasury official details sanctions on Russia
From CNN's Betsy Klein
US Deputy Treasury Secretary Wally Adeyemo outlined Tuesday's sanctions announcement Wednesday morning, detailing the Biden administration's three-pronged approach. 
"The sanctions that we imposed were significant actions that had an impact on Russia in multiple ways," Adeyemo said during a brief appearance on MSNBC.
US President Joe Biden on Tuesday laid out what he called a "first tranche" of US sanctions against Russia, including on two large financial institutions, Russian sovereign debt and Russian elites and their family members.
On banks: "The banks that we went after one of them was critical to [Russia President] Vladimir Putin's ability to project power within Russia. It's money they use to pay the Kremlin used to pay for things within the country. The second bank was critical to their defense industry and their ability to project power outside of Russia. We've cut those banks off from the US financial system, and today their assets are frozen because of the actions that we took," Adeyemo said.
On individuals: "We cut off Russian elites. These elites are close to the Kremlin and close to Putin. And the reality is that Vladimir Putin gains a great deal of his wealth from taking money from these elites and from the Russian economy. So like cutting off these individuals and their children, we cut off the ability for Vladimir Putin to use their resources to further his lifestyle."
On debt: "The action we took to cut off sovereign debt means that over time, Russia's economy will be starved for the resources they need to project power within the region and around the world." 
Echoing Biden's remarks yesterday, Adeyemo acknowledged that there will be some costs to Americans, including at the gas pump.
"What the President has told us is to take actions that will severely impact the Russian economy and to mitigate the impact on the US and Europe, which we have which we have done, but there will be costs and our goal will be to make sure that we mitigate those costs over time," he said.
Pressed about oligarchs who may have funds spread out across multiple countries, Adeyemo said that the strategy included going after those close to them, including their children.
"One of the things we did yesterday was in addition to going after the named individuals, we went after their children. And our goal will be as we continue, is to make sure that we target the individuals around them to ensure that the money they're sending to places like London and New York through those individuals can no longer flow and we constrict the ability of this money to flow back to President Putin," he said.