1 hr 50 min ago
US continues to see "heavy fighting" in and around Kharkiv, defense official says
From CNN's Ellie Kaufman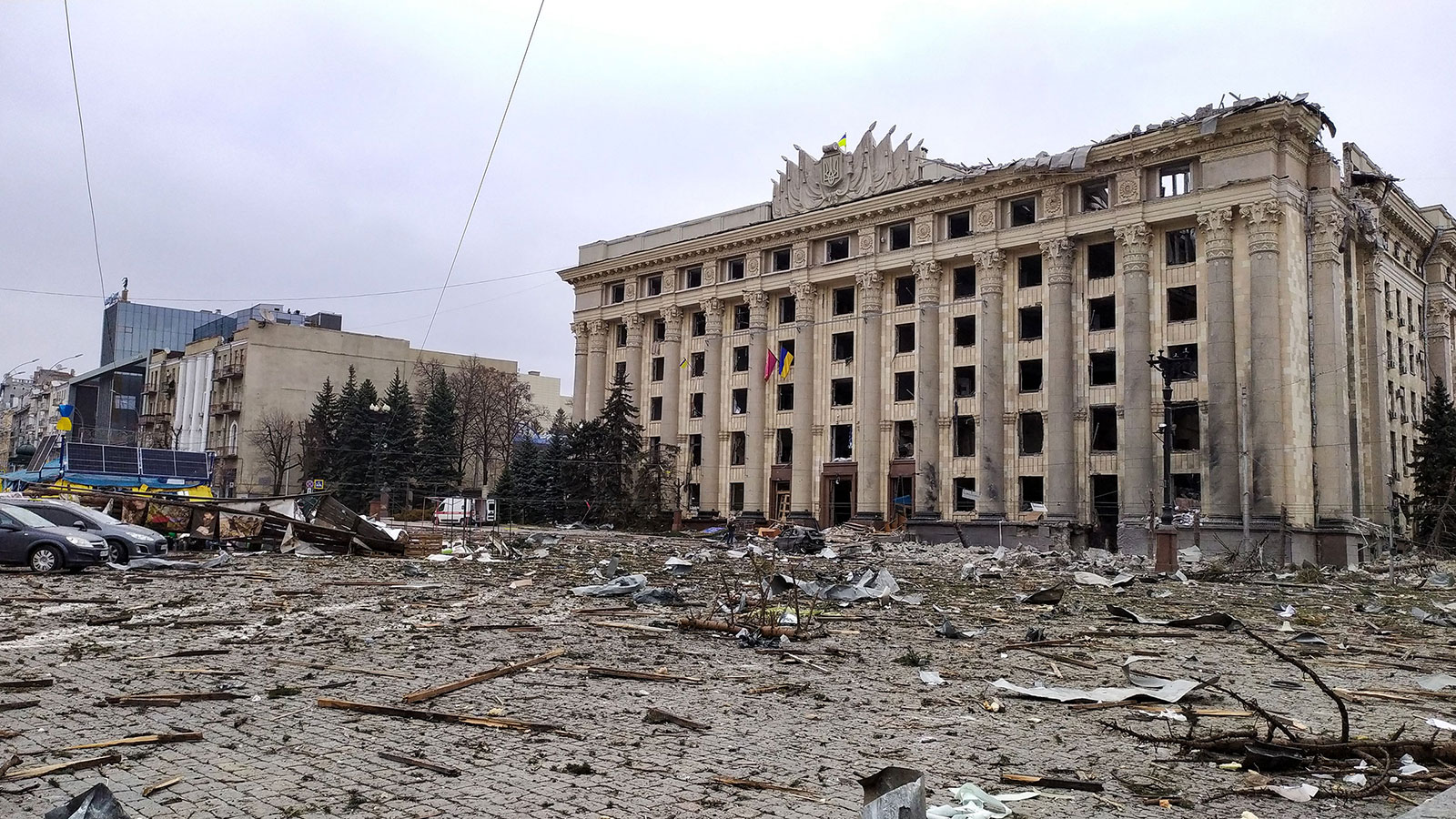 The US continues to see "heavy fighting in and around Kharkiv" and the area "remains heavily contested," a senior US defense official told reporters on Tuesday — the sixth day of the Russian invasion of Ukraine.
In the southern part of the country, the US continues to see Russian forces make "more progress," and have "more success down there, in terms of moving along their axes," the official said.
The Russian forces are advancing on two axes in the south. From Crimea, there is one part that goes off to the northwest and one that goes to the northeast, the official said.
The Ukrainian city of Kherson appears "very much to be a contested city at this point," the official said.
From the northeast, Russian forces are "still outside Mariupol" and "they have not advanced inside the city" yet, the official said.
"They are close enough now that they could attack Mariupol with long-range fires, and again we haven't seen a whole lot of activity, but we don't believe that they're in Mariupol," the official added.
The US does believe Russian forces are occupying Berdyansk and Melitopol, which is west of Berdyansk and further in from the coast of the Sea of Azov, the official said.
"Again if you draw that line from Mariupol to Kharkiv, we can see a continued desire from the Russians to sort of connect on those two lines, they haven't made much progress, but we still believe that's their intent," the official added.
Here's a map to help understand where the Russians stand in Ukraine:
2 hr 12 min ago
US and allies will release 60 million barrels of oil as Ukraine war roils markets
From CNN's Kaitlan Collins, Phil Mattingly, Kevin Liptak and Natasha Bertrand 
The US and its allies have agreed to a release of 60 million barrels from their reserves, according to two sources familiar with the decision. Half of it — 30 million — will come from the US Strategic Petroleum Reserve, and the other half will come from allies in Europe and Asia.
This comes as US President Joe Biden seeks to dampen the effect of Russia's invasion of Ukraine on gas prices at home.
Earlier CNN reported: Allies include Germany, the UK, Italy, the Netherlands and other major European countries, as well as Japan and South Korea. US officials have spent the last several weeks on calls and in meetings with their counterparts in key energy-supplying countries in an effort to secure commitments to backfill any market disruptions. The effort included an in-person visit to Saudi Arabia from two senior administration officials to discuss the need to address the impact on oil markets. The US informed Saudi Arabia ahead of the oil reserve announcement. 
Biden signaled his intent to release the oil last week.
"We are actively working with countries around the world to evaluate a collective release from the Strategic Petroleum Reserves of major energy-consuming countries. And the United States will release additional barrels of oil as conditions warrant," he said.
The Paris-based International Energy Agency is holding a last-minute meeting Tuesday on oil supply with the goal of "stabilizing markets," it said earlier this week. The meeting with be chaired by US Secretary of Energy Jennifer Granholm.
Some background: Tapping the SPR – the stockpile of 600 million barrels of crude oil stored in underground salt caverns in Louisiana and Texas – generally has only a limited effect on gas prices because of how much oil can be released at a time, but would act as a political sign that Biden is confronting the problem.
2 hr 16 min ago
Putin is "personally responsible" for economic pain of Russian citizens, French official tells CNN
From CNN's Maddie Araujo and Emmet Lyons 
French Finance Minister Bruno Le Maire told CNN Tuesday that Russian President Vladimir Putin "will be directly and personally responsible for the difficulties of his own population."
Speaking to Christiane Amanpour in Paris, Le Maire said that the consequences of economic sanctions that have been implemented on Moscow following Russia's invasion of Ukraine were "first of all on Vladimir Putin, first of all on the oligarchs, first of all on the financial and economic Russian system, but also there will be side effects on the Russian population."
"We don't want to hurt the Russian population, but by imposing economic and financial sanctions, of course, Vladimir Putin will be directly and personally responsible for the difficulties of his own population," Le Maire said. 
Earlier Tuesday, Le Maire said that nearly $1 trillion worth of Russian assets have been frozen by western sanctions as the European Union and its allies launch an economic and financial war against Russia. 
The finance minister told Amanpour that the sanctions had been effective in significantly damaging Russia's economy and sending a message to the Kremlin. 
"When you are looking at the current situation, sanctions prove to be effective," he told CNN. "There has been a devaluation of the ruble of 30%. Let's have a look at the Russian market. There has been a decrease on the Russian market by 30%. Let's have a look at the risk of having bank runs in Russia. We are already inflicting… serious damages to Russian economy, serious damages to the Russian financial system, and we will stick to that line, which is a very strong one for the view of making understandable our determination to say: stop to Vladimir Putin." 
"I think that we must show our total determination to face the threat by imposing these sanctions and by inflicting this damages on the Russian economy, because that's the current weapon that we have in our hands," Le Maire said. 
"I really think that the Russian power has been surprised by the total determination of the European countries," he added.
2 hr 26 min ago
Area near Kyiv TV tower hit by military strikes
From CNN's Paul P. Murphy and Olya Voitovych
The area surrounding a massive TV tower in Kyiv has been hit by military strikes, according to videos and photos posted to social media that have been geolocated and verified by CNN.
On Telegram, the Ukrainian Ministry of Internal Affairs confirmed there was a military strike near the TV tower.
"The channels will not work for a while," the ministry said in its statement. "The backup broadcasting of some channels will be enabled in the near future."
Earlier on Tuesday, the Russian military warned that it would carry out strikes against Ukraine's State Security Agency and "the 72nd Main Center for Information and Psychological Operations [PSO] in Kyiv." 
It's unclear at this time whether these new strikes were targeting either of those Ukrainian state entities. 
CNN's Nathan Hodge contributed to this report.
2 hr 29 min ago
US oil soars above $102 for the first time since 2014
From CNN's Matt Egan
US oil prices jumped 7% on Tuesday and climbed above $102 a barrel for the first time in more than seven years amid growing worries about the Russia-Ukraine crisis.
Even as energy officials around the world near a deal to release emergency oil stockpiles, oil prices are rising sharply.
US crude climbed 6% and briefly topped $102 a barrel for the first time since July 2014. 
Brent crude rose about 7% to $104.37 a barrel, closing in on the intraday high set last week of nearly $106 a barrel. Brent, the world benchmark, finished above $100 a barrel on Monday for the first time since 2014.
While a coordinated release of oil reserves could be imminent, the market also received fresh signals that OPEC and its allies are not coming to the rescue. 
Despite pressure to ramp up production, Saudi Arabia's cabinet reaffirmed its commitment to the OPEC+ agreement – a pact that calls for just a modest increase in output, according to a statement from the Saudi state news agency on Tuesday.
The latest march higher in the oil market will only drive up prices at the gas pump, which move with a lag to oil.
2 hr 32 min ago
Pro-Kremlin Chechen leader acknowledges casualties in Ukraine
From CNN's Nathan Hodge
Ramzan Kadyrov, the pro-Kremlin leader of Russia's Chechnya region, made a rare admission about casualties sustained by forces from Chechnya in the invasion of Ukraine.
"Unfortunately, there are already losses among the natives of the Chechen Republic," he said in a statement on Twitter. "Two died … six more were injured to varying degrees."
The Russian government has not released detailed statistics about troops killed and wounded in Ukraine, despite extensive documentation by international media of Russian casualties.
Dmitry Peskov, the Kremlin spokesperson, said Tuesday that Russian President Vladimir Putin was fully briefed on the situation in Ukraine, but Peskov said he had no specific information on casualties. 
2 hr 34 min ago
On the ground: Some fleeing Ukraine are getting sick after waiting in line for days, they tell CNN
People fleeing the violence in Ukraine have been waiting in line for days to enter Poland, CNN correspondent Arwa Damon reports.
Many students from mainly African and Asian nations have been waiting in Shehyni, Ukraine, a village bordering Poland.
"It's almost as if it's the story of two very different flows of people with, to a certain degree, very different stories. Right here, you have this long line of mostly men, many of them students from, really, across the world. You have people from all different countries in Africa, you have people from different countries in Asia, and the thing is … they have been waiting here, most of them, for days," she reported.
Some have been falling ill in freezing temperatures while waiting in line. One man said he has moved only roughly 100 feet in more than 24 hours.
There is a different line for Ukrainians, mostly women and children, who have had to leave their male family members to potentially fight in the war, Damon reported.
Foreign students have been alleging encountering racism by Ukrainian security forces and border officials at crossings.
Around 660,000 refugees have now fled Ukraine to neighboring countries in the past six days, according to the latest data, the United Nations' refugee agency said in a statement.
2 hr 29 min ago
UK prime minister says British troops will not fight Russian forces in Ukraine
CNN's Nada Bashir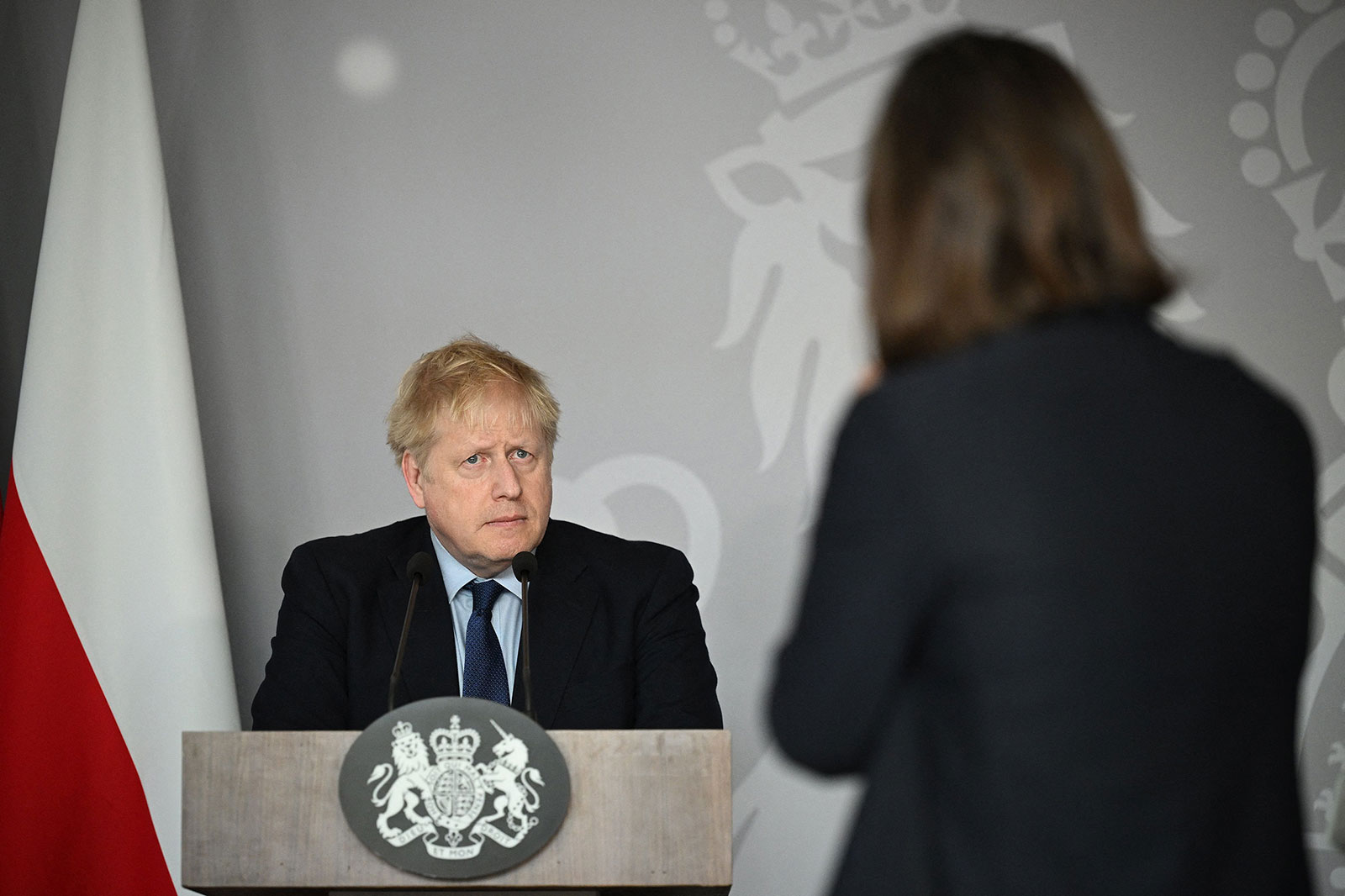 UK Prime Minister Boris Johnson said Tuesday that British troops will not fight Russian forces in Ukraine, adding that recent military reinforcements are "nothing more than defensive measures."
"I want to be crystal clear on that point: We will not fight Russian forces in Ukraine," Johnson said.
"As we support the people of Ukraine, we must also shore up our shared resilience to protect our people and our values. These are nothing more than defensive measures, which have been the essence of NATO for more than 70 years," he added. 
Speaking alongside NATO Secretary General Jens Stoltenberg and Estonian Prime Minister Kaja Kallas following a visit to Estonia's Tapa Military Base, Johnson also noted that recent reinforcements were firmly within NATO borders.
"Our reinforcements, like these reinforcements here in Tapa, are firmly within the borders of NATO members, and they are profoundly the right thing to do," Johnson said. 
2 hr 44 min ago
US secretary of state calls out Russia for killing civilians in Ukraine
From CNN's Zachary Cohen and Kylie Atwood
US Secretary of State Antony Blinken called out Russia on Tuesday for killing civilians in Ukraine, telling the United Nations Human Rights Council that Russian strikes "are hitting schools, hospitals and residential buildings."
"They are destroying critical infrastructure, which provides millions of people across Ukraine with drinking water, gas to keep them from freezing to death, and electricity. Civilian buses, cars, and even ambulances have been shelled. Russia is doing this every day – across Ukraine," Blinken added. 
The remarks by the top US diplomat come after Ukraine President Volodymyr Zelensky accused Russia of war crimes for bombing the city of Kharkiv. 
Over the past two days, Russian attacks have hit civilians, suggesting a shift towards a far-less restrained bombing campaign. Earlier Russian attacks were more focused on military targets.
Zelensky also made an impassioned plea Tuesday for European leaders to "prove" their solidarity with his country.
"We are fighting for our life," he said in a speech to the European Union Tuesday.