2 hr 36 min ago
Volkswagen stops car production in Russia and suspends shipments
From CNN's Chris Liakos
Volkswagen is stopping production of vehicles in Russia and will suspend exports to the Russian market.
"The Volkswagen Group has received the news about the war in Ukraine with great dismay and shock. Volkswagen continues to hope for a cessation of hostilities and a return to diplomacy. We are convinced that a sustainable solution to the conflict can only be found on the basis of international law," the carmaker said.
"Against the background of the Russian attack on Ukraine and the resulting consequences, the Group Board of Management of Volkswagen AG has decided to stop the production of vehicles in Russia until further notice. This decision applies to the Russian production sites in Kaluga and Nizhny Novgorod," it added, noting that vehicle exports to Russia will be stopped "with immediate effect."
Other car makers, including Ford and Renault, have also paused production in Russia. Jaguar Land Rover and Volvo said they are stopping shipments to Russia until further notice.
2 hr 15 min ago
Russian Ministry of Internal Affairs warns against protests, according to state media
From CNN's Nathan Hodge in Moscow
The Russian Ministry of Internal Affairs warned Thursday against calls for unauthorized protests against the war in Ukraine and said it has introduced "extra measures to ensure law and order," Russian state news agency TASS reported. 
The ministry warned that all attempts to carry out unsanctioned actions will be stopped, and their organizers and participants will be prosecuted, TASS said.
OVD-Info, an independent monitoring group that tracks detentions in Russia, says over 7,500 people have been arrested in anti-war protests over the past week. 
Authorities in Russia forbid rallying without a permit and may consider broadcasting or reporting specific information on unauthorized rallies to be considered organizing illegal protests.
2 hr 17 min ago
White House requests $10 billion for Ukraine aid as part of broader emergency funding request
From CNN's Phil Mattingly and Betsy Klein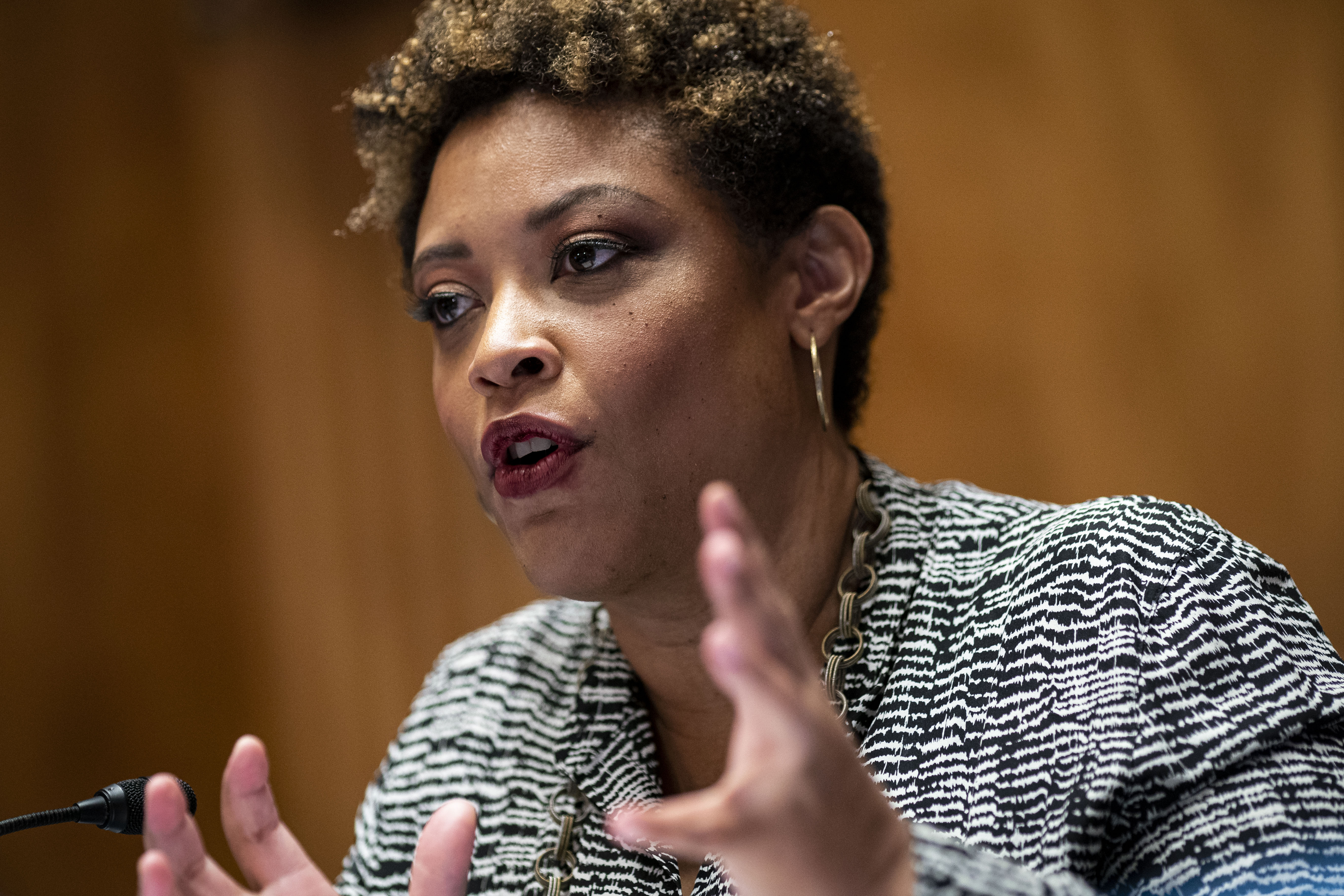 The White House has asked lawmakers to approve $10 billion in lethal and humanitarian aid for Ukraine as part of a $32.5 billion emergency funding request sent to Capitol Hill as Russia continues its advance on Ukraine.
The request follows weeks of discussions between White House officials and lawmaker about the shape of any potential emergency request, which was expected to focus heavily on Covid-19 needs. But the escalating Russian invasion has dramatically increased the size of the request for Ukraine specifically.
Lawmakers are in the midst of negotiations over a long-term funding deal and face a March 11 deadline to reach an agreement.
The Ukraine funds are expected to be attached to any final deal, but the process remains fluid.
"This request identifies an immediate need for $10.0 billion in additional humanitarian, security, and economic assistance for Ukraine and Central European partners due to Russia's unjustified and unprovoked invasion," the formal request sent Wednesday from acting Office of Management and Budget director Shalanda Young to Congressional leadership says. 
Young suggested the initial $10 billion request for Ukraine would address "immediate needs" and more funding could be needed.
"Given the rapidly evolving situation in Ukraine, I anticipate that additional needs may arise over time. This funding request is based on the Administration's best information on resource requirements at this time, and we will remain in touch with the Congress in the coming weeks and months as we assess resource requirements beyond these immediate needs," she said. 
More on the funding request: The detailed request provides $4.8 billion to the Department of Defense, including $1.8 billion for support in the region as US military units support the US European Command and NATO Response Force, $1.3 billion for cybersecurity and other defense support, and $1.8 billion for replenishment of DOD stocks. It also calls for $5 billion for the Department of State and US Agency for International Development (USAID), including $2.8 billion in humanitarian assistance like food and other support, $500 million in military assistance through the Foreign Military Financing program, and $1.8 billion in economic assistance to help "support continuity of government and the resilience of the Ukrainian people, as well as emergent needs in the region."  
The request also provides $21 million for the Department of Commerce to bolster export controls, $30 million for the Department of Energy to provide "technical assistance for electric grid integration," $59 million for the Department of Justice to support a newly-announced Task Force KleptoCapture to enforce sanctions on Russia and other funding for the Multinational Task Force, and $91 million for the Department of Treasury for sanctions support and IRS criminal investigations, among other expenditures.
2 hr 52 min ago
Biden's Cabinet meeting today is expected to focus heavily on invasion of Ukraine, officials say
From CNN's Kaitlan Collins and Maegan Vazquez
US President Joe Biden will convene his Cabinet Thursday afternoon for a meeting that is expected to focus much more heavily on foreign policy than usual, officials told CNN.
At 2 p.m. ET Thursday, Biden and US Vice President Kamala Harris will meet with top aides in the Cabinet room as the Russian invasion of Ukraine continues to unfold.
The White House said this morning that the President will also hold a secure video call in the Situation Room at 9 a.m. ET with the leaders of Australia, India and Japan "to discuss the war against Ukraine and its implications for the Indo-Pacific." It is closed to press.
What we expect to happen in today's Cabinet meeting: The President is set to make brief remarks at the top of the meeting on the latest developments in Ukraine, White House officials said. He last convened a Cabinet meeting in November, which was focused on infrastructure.
Biden has remained highly focused this week on the invasion as Ukraine's cities have continued to be attacked by Russian forces, dedicating a large portion of Tuesday's State of the Union address to the conflict.
The US and allies have issued a wide range of actions in recent weeks intended to punish Moscow for the invasion.
During his address to Congress, the President announced that the US would join other countries in banning Russia's aircraft from US airspace and that the US and its allies had agreed to release 60 million barrels of oil from their reserves. And after Biden told Russian oligarchs during the speech that the US was "coming for you," an official told CNN the Treasury Department is preparing further sanctions on more oligarchs and could impose those in the coming days. The sanctions are still being finalized, the official said.
Read more about the Cabinet meeting here.
2 hr 21 min ago
EU chief: Ukrainians "belong in the European family"
From CNN's Gabby Gretener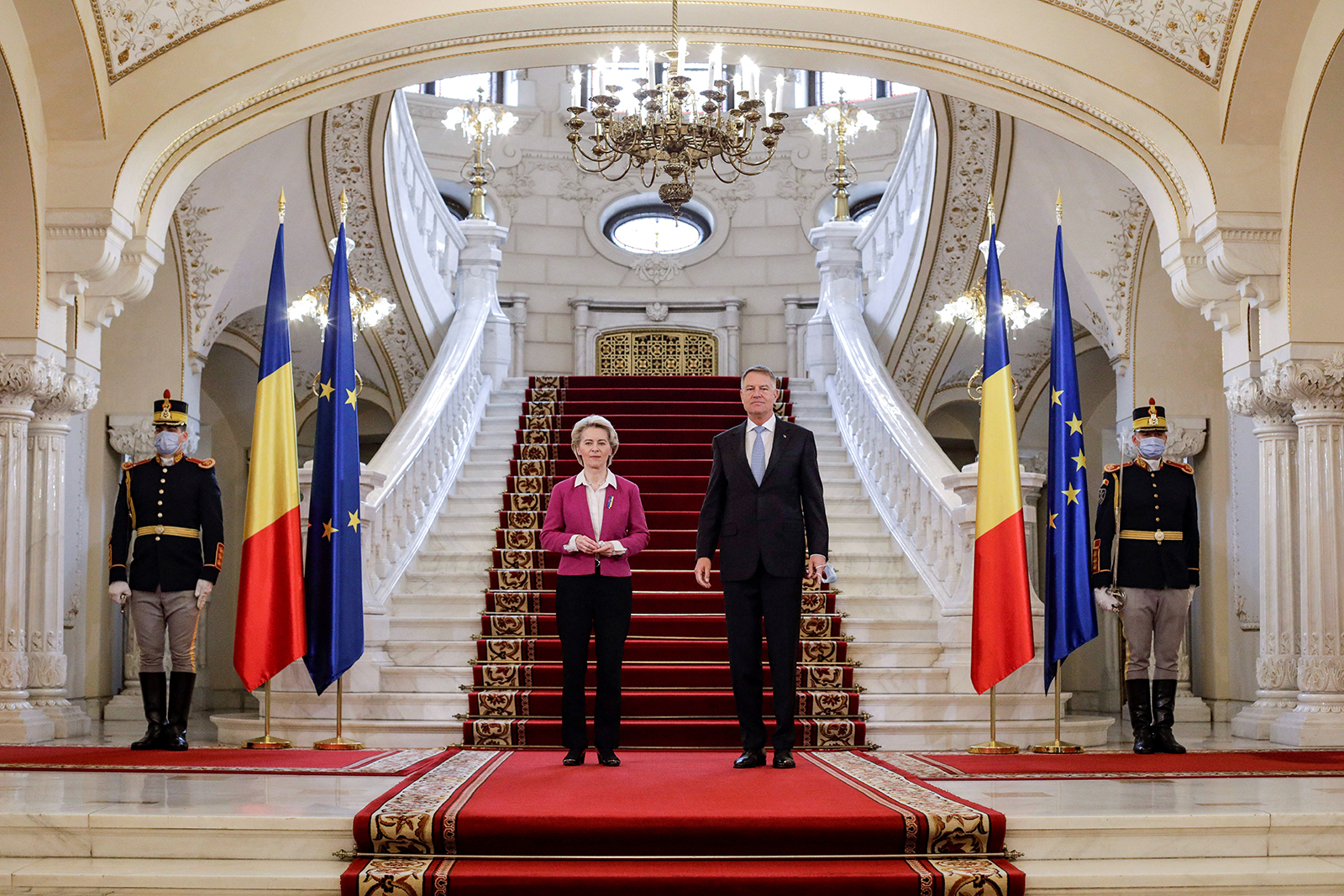 European Commission President Ursula Von Der Leyen reiterated the European Union's support for Ukraine membership, saying "there is no doubt that these brave people who defend our values with their lives belong in the European family." 
Von Der Leyen said the bloc can provide Ukrainian refugees with protection, residency, access to work and to housing, adding that it is "not only an act of compassion in times of war, this is also our duty as Europeans." 
At least one million refugees have fled Ukraine in the week since the invasion began and "crossed our borders," she said.
In a joint news conference with Romanian President Klaus Iohannis, Von Der Leyen announced the creation of a "civil protection hub for Ukraine" based in Romania to assist with humanitarian needs.
She also addressed the long lines of people at the Polish border saying they "have issued guidelines for border management. This is to simplify formalities at the border and thus enable people to get a shelter more rapidly."
Von der Leyen said "we are providing humanitarian support to deal with the consequences of this war" and "will deploy at least 500 million euros from the EU budget in humanitarian assistance and of course more will come. As we need to brace for devastating consequences of this atrocious war."
On sanctions: She stated that the EU's "aim is to cut off the Kremlin's capacity to wage war on its neighbors and warned of "additional steps if the situation deteriorates on the ground." 
The EU is preparing in case of "retaliation," by Russia, by working to diversify its energy supplies, she said. Von der Leyen also announced plans to connect Ukraine to the European electricity grid. "We are in this together and we will accompany Ukraine in this process with determination, with unity and with solidarity." 
"We will always remember the determination and bravery of the people of Ukraine. They are an inspiration to all of us," she said before adding "Our focus is on ending this war."
2 hr 49 min ago
What we know about the massive Russian convoy outside of Kyiv
From CNN's Luke McGee
For days, residents of Kyiv had been bracing themselves for a 40-mile-long convoy of Russian tanks, armored vehicles, and towed artillery to arrive for an assault on the Ukrainian capital.
Days later, they're still waiting.
On Thursday, the UK's defense ministry said the convoy appears to have stalled some 30 kilometers (19 miles) outside Kyiv and has made "little discernible progress" over the past three days, citing intelligence.
"The main body of the large Rusian column advancing on Kyiv remains over 30km from the center of the city, having been delayed by staunch Ukrainian resistance, mechanical breakdown and congestion. The column has made little discernible progress in over three days," the UK statement said.
Pentagon spokesperson John Kirby said Wednesday night that while the convoy and Russia's broader push towards Kyiv "remains stalled," there was a significant concern "that maybe the window is closing to be able to get aid into cities that may become under siege."
A senior US defense official told reporters on that although the convoy is suffering shortages of fuel and food, the US has assessed that the Russians "will again learn from these missteps and these stumbles and will try to overcome them."
The convoy's stalled progress could create multiple strategic problems for Russia.
Read the full story here.
28 min ago
Ukrainian delegation en route to second round of talks with Russia
From CNN's Vasco Cotovio and Katharina Krebs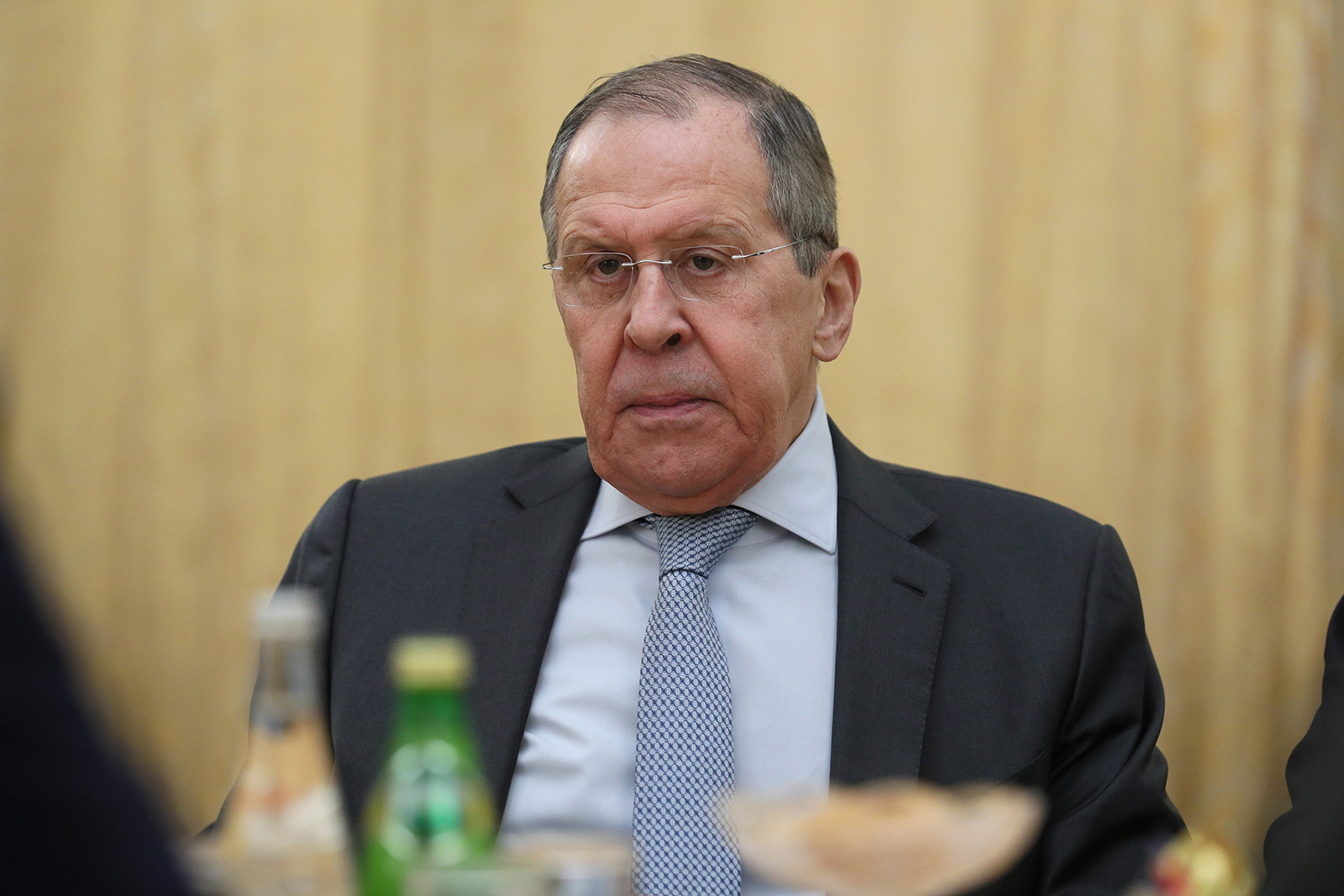 Delegations from Russia and Ukraine are set to meet for a second round of talks in Belarus today, after a Ukrainian presidential adviser confirmed that their representatives were on the way.
Mykhailo Podolyak tweeted that the Ukrainian delegation was traveling to the meeting point after Russian officials said they would take place on Thursday. 
"En route to talks with Russian Federation. Already in helicopters. We will start in couple of hours," tweeted Podolyak alongside a photo of himself with David David Arakhamia, a senior official of the governing party. Arakhamia said in a Facebook post that talks are expected to begin around 9 a.m. ET.
"The talks will take place," Russian Foreign Minister Sergey Lavrov said earlier in a video conference.
Lavrov claimed — without evidence — that the Ukrainian side had deliberately delayed their arrival, and suggested that the Ukraine is a puppet state of the United States.
Also on Thursday, Kremlin spokesperson Dmitry Peskov said a Russian delegation was in Belarus waiting for their Ukrainian counterparts.
"Our delegation was in place last night. It was expecting Ukrainian negotiators last night, all night, then in the morning. They are still waiting," he said. "
"But as you know, the talks have not started. Ukrainian negotiators are clearly in no hurry. Let's hope they arrive today," added Peskov.
Delegations from both countries were due to meet Wednesday for a second round of talks.
The first round of talks on Monday lasted for five hours and ended without a breakthrough.
3 hr 45 min ago
Foreign ministers of 10 Southeast Asian countries call for a ceasefire in Ukraine 
From CNN's Alex Stambaugh in Hong Kong 
Foreign ministers of the Association of Southeast Asian Nations (ASEAN) are calling for an immediate ceasefire in Ukraine, according to a statement tweeted by the Office of the Cambodian Prime Minister. 
"The Foreign Ministers of ASEAN are deeply troubled by the intensifying gravity of the situation and ensuing worsening humanitarian conditions resulting from the ongoing military hostilities in Ukraine," the statement said. 
"We therefore, call for an immediate ceasefire or armistice and continuation of political dialogues that would lead to sustainable peace in Ukraine," it said, adding that a ceasefire would create an "enabling environment for negotiations" and "avoid expanding suffering of innocent people."
"There is still room for a peaceful dialogue to prevent the situation from getting out of control and halt the growing number of civilian and military losses and casualties," it added. 
The statement said ASEAN "stands ready to facilitate, in any way possible, peaceful dialogue among parties concerned."
ASEAN is comprised of 10 Southeast Asian states, including Brunei, Cambodia, Indonesia, Laos, Malaysia, Myanmar, the Philippines, Singapore, Thailand and Vietnam. 
3 hr 51 min ago
IKEA temporarily suspends operations in Russia and Belarus, affecting 15,000 employees
From CNN's Chris Liakos
IKEA is temporarily pausing operations in Russia and Belarus, the company said in a press release Thursday.
"The war has a huge human impact already. It is also resulting in serious disruptions to supply chain and trading conditions. For all of these reasons, the company groups have decided to temporarily pause IKEA operations in Russia," it said.
IKEA said it has decided to pause all exports and imports in and out of Russia and Belarus and to stop all IKEA retail and industry operations in Russia. IKEA has 17 stores in the country.
"These decisions have a direct impact on 15 000 IKEA co-workers. The ambitions of the company groups are long term and we have secured employment and income stability for the immediate future and provide support to them and their families in the region," according to the statement.
IKEA also announced "an immediate donation of €20 million for humanitarian assistance to those who have been forcibly displaced as a result of the conflict in Ukraine," in response to an emergency appeal from the UN refugee agency.